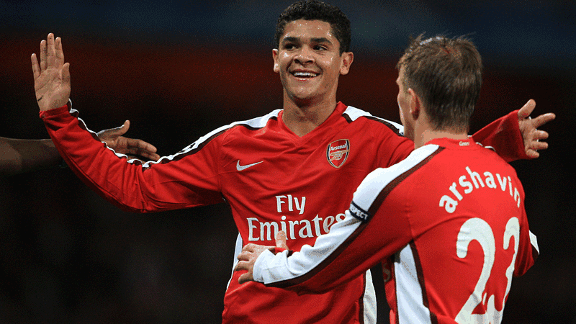 PA PhotosDenilson and Andrei Arshavin have headed out of the Emirates Stadium exit
As the summer keeps dragging on without club football and with little tangible Arsenal news, some fans are getting impatient. Apart from the fixture list announcement, there has been no new kit release, not much to commemorate and nothing much to shout about from the previous season. The few drips of news have unsurprisingly been transfer rumours.

However it seems that before the much-needed signings, Arsenal are sorting through the squad with sales before arrivals.

Given many people's desire to get new players in as soon as possible, the frustrations are understandable but for the last few barren trophy years there have long been calls for Arsene Wenger to shift out the deadwood and get rid of those considered not good enough for Arsenal Football Club. For a lot of players, their departure seems overdue - finally Arsenal look to be efficiently trimming the squad. The hope is that the signings will follow.

Sebastien Squillaci and Denilson left on free transfers, along with Andrei Arshavin, who has gone home to Zenit St Petersberg. All three players were receiving wages that didn't match up to the amount of playing they contributed to Arsenal, so it is a relief to see them move on which, in theory, frees up money for wages for new signings and strengthens Arsenal's position in the transfer market when negotiating with players.

As well as those three leaving on free transfers, reports suggest that the Gunners are set to receive transfer fees for numerous players who many fans won't be disappointed to see the backs of.

Johan Djourou is set to move to Germany, and despite having a number of first-team opportunities, the quality of Mertesacker, Koscielny and Vermaelen means he's unlikely to hold down a regular place in the Arsenal team. After a loan spell last season, this summer is the time to cash in.

When in the Arsenal squad, Nicklas Bendtner regularly divided opinion amongst Arsenal supporters. As his career went on, fans became increasingly frustrated, and after two seasons of being out on loan, there have been stories that he will finally permanently leave the club. Despite the striker shortage, there has been no suggestion of Bendtner returning, so this summer is also the right time to finally release him from the books.

Rumours are also circulating about two players, who haven't been on loan, leaving Arsenal. A fee has been agreed with Sunderland for Vito Mannone. The Italian is a good back-up goalkeeper, but it's unlikely he'll ever hold down the Gunners' No. 1 shirt, so letting him move on is understandable.

There are also rumours that Gervinho may return to Ligue 1. Despite some impressive performances, there have been too many frustrating showings from the Ivorian in an Arsenal shirt. With speculation of attacking signings, his chances could become limited next season. He's a player that needs to play regularly to be in form if he's going to be effective, and if he's only a bit-part player, he's unlikely to reach his best playing for Arsenal.

While no players have come in yet, the squad is being trimmed of those who shouldn't be badly missed if they go. Sorting through the squad and settling the departures of those deemed not good enough is well and good, but the squad has to then be strengthened with better players than the ones who have left. Until that happens, fans will still be impatient waiting for signings despite the club being active on one side of the transfer market.