The long, lazy days of summer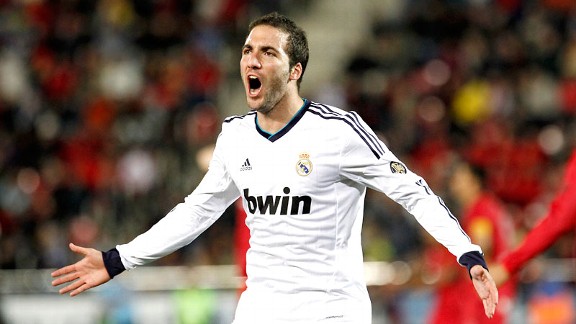 Victor Carretero/Getty ImagesGonzalo Higuain is reportedly nearing a deal with the Gunners.
I remember the summers of my youth. The sun shone every day; I was out of the house after breakfast and some cartoon-watching (thank you, "Top Cat" and "Inch High, Private Eye") and I was able to spend my day re-creating Arsenal goals up and down the garden or around on the green close to my house.

If there were people to play football with, great. If not, I could do it alone. My specialty was the 1979 FA Cup final. First Brian Talbot, then Frank Stapleton. I'd fast-forward to the point where United equalised in the last few minutes of the game, before pretending to be Liam Brady running it to Graham Rix, who crossed for Alan Sunderland to score the winner. And yes, I would commentate as I played. Don't lie, you did it too.

At this point in this particular summer, I feel like I should go back to that kind of thing, because if there's anything worse than hearing yet another remix/cover version of "Get Lucky," it's waiting for a transfer to happen.

We keep hearing that Arsenal are moving closer to the signing of Gonzalo Higuain, but it feels positively sloth-like at this moment. Which isn't to say it's all down to Arsenal. There are many factors that have to be taken into account. The selling club, the player himself and whether he wants to commit to a deal this early in the summer in the hope that something better might come along, the agents and hangers on. But this "nearly something" definitely is worse than nothing at all.

- Higuain 'close' to Arsenal deal

If there was no smoke, we wouldn't be looking for the fire. The Higuain stuff is as if somebody has thrown a couple of mouldy tires onto the pyre. Unlike the other players Arsenal have been linked with this summer, the likes of Wayne Rooney and Marouane Fellaini, for example, it seems like there's actual truth to it and it hasn't just been invented to sell newspapers.

We have his brother talking about how it's 'closer' now that Juventus have signed Carlos Tevez, and he's not the first member of the Higuain family to mention Arsenal. The club itself, usually so tight-lipped over transfers, has been drip-feeding information to the media, perhaps in an effort to raise awareness of its increased ambition. Some of the UK newspapers announced last week that personal terms had been agreed, and it was just down to the clubs to agree a fee.

That's not always easy, however. We see some deals happen quickly, many have pointed to the Tevez/Juventus transfer as evidence of that, but for all we know the machinations have been ongoing for ages with the Old Lady using Higuain as a handy smokescreen lest anyone try to hijack the Argentine.

Arsenal signed Nacho Monreal in a very short space of time, but that was a deal which had to be quick, precipitated as it was by an injury to Kieran Gibbs, and the need to move quickly because the transfer window was closing.

Now it's summer (not much sun here in Ireland -- maybe I'm remembering the old ones wrong), and there's no rush, no pressure. Things can be done in their own good time, which is quite different from the time that suits us as fans, but there's not a great deal we can do about that.

Apart from go out into the garden and recreate Arsenal goals. I might have to watch out for the windows as I try this.