Arsenal should stick with Szczesny -- for now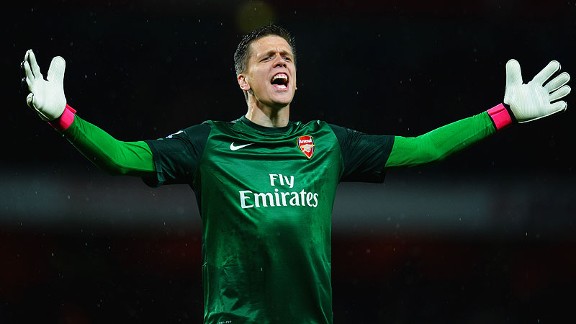 Shaun Botterill/Getty ImagesWojciech Szczesny has earned the Arsenal goalkeeper job and should have another season in which to secure it.
Arsenal have been linked with plenty of midfielders and strikers so far this summer, but so far there's been little suggestion that they're in the market for a goalkeeper. Some vague rumours about Julio Cesar have come to nothing, and apart from that there hasn't even been much paper-talk.

It's interesting because Arsene Wenger clearly has doubts about his current crop of keepers. Wojciech Szczesny was dropped last season for Lukasz Fabianski. Not unremarkable in itself, but the fact he was benched ahead of a massive Champions League game against Bayern Munich, not to mention the fact Fabianski hadn't played a first team game for over a year, spoke volumes.

Indeed, it was only injury that saw Szczesny regain his place and it looked as if the short, sharp shock did him good. Over the final few games of the season the Pole was reliable, consistent and made some very important saves to keep Arsenal's top four hopes alive. There was a brilliant one-handed save from Loic Remy in the 1-0 win over QPR, and perhaps forgotten in the 4-1 dismantling of Wigan was an early second-half save from Arouna Koné that kept the scores level.

Those are the qualities that saw Arsene Wenger put his faith in Szczesny, making him the number 1 at the club, and it's not unusual for form to fluctuate in young goalkeepers. By the end of this season David de Gea had established himself firmly as first choice for Man United, but there were still doubters and dissenters and he had to share the spot with Anders Lindegaard until he'd proven his quality.

Having just turned 23, he's still very young as keepers go and there's a steeper learning curve for those playing at the back than those further up the field. When a defender or a keeper makes a mistake it tends to be more costly than a winger over-hitting a cross or a striker fluffing a chance.

Having put so much time into Szczesny makes it more difficult for Wenger to demote him and sign a new keeper. While nobody would deny competition for places is crucial, it has to be balanced with the idea that he can improve and will mature into a better player than he is now. If he doesn't play often, or at all, there's the danger he'll move on and that better player will benefit another club.

I'd be inclined to look beyond the players themselves and ask if Arsenal, and indeed Szczesny, might benefit more from better coaching than a new signing. Jens Lehmann is around the club now and his professionalism and knowledge could be a massive boon to a player still learning his trade. Could former keeper, David Seaman, be encouraged to mentor Szczesny like Bob Wilson did for him when he arrived at the club?

Ultimately, I think it's too early to write Wojciech off and last year's salutary lesson that being number 1 isn't a guarantee of playing week in, week out will refocus him. If, at the end of next season, he hasn't made substantial progress then it'll be time for Wenger (or whoever the manager is then) to reassess the situation, but there's potential in the Pole that needs to be tapped.