Bergkamp brings back memories of marquee signings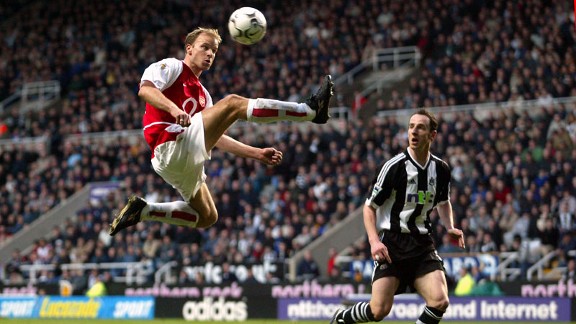 EmpicsDennis Bergkam: Football genius.
As Arsenal fans patiently wait for some action in the transfer market, there is plenty of time to reflect that today, June 20, is a significant date in the club's history. Eighteen years ago, the Gunners completed a transfer deal that made a major statement about the club's ambitions.

The Premier League started in 1992, but by summer 1995, Arsenal still hadn't really challenged for the title. Fans were hopeful of a marquee signing to boost the team and get back to challenging at the top of the division. Then Dennis "The Iceman" Bergkamp arrived.

Excusing the terrible temperature pun, but Arsenal were suddenly cool again. It was easy to criticise the Gunners for being boring with the famous back four; however, the signing of Bergkamp was a statement to the football world that the Gunners were going to break out of that stereotype and play some exciting, attacking football.

Bergkamp's Arsenal career is always associated with Arsene Wenger's managerial reign. However, the Dutchman was signed by Bruce Rioch and was probably the best thing he did for the club during his short spell in charge (1995-96).

Sealed by a last-minute Bergkamp screamer in the final game of the season, Arsenal made it into the UEFA Cup by finishing fifth. It was a seven-place improvement on the previous year. With the arrival of Wenger in 1996, Bergkamp and Arsenal began to move toward winning titles and trophies.

With any big-name signings, there always seems to be a risk that they can become a destructive force in the dressing room. Others at the club could become unsettled by their presence. That was never the case with Bergkamp. Whilst his presence did start an evolution of the club's appearance to the outside footballing world, within it Bergkamp bought into what the club meant. Former players never seem to have a bad word to say about him, who is regularly regarded as both the hardest worker and the funniest member of the squad.

And it wasn't just Bergkamp's beautiful style of play that endeared him to Arsenal fans; it was his tougher side, too. Bergkamp took a lot of kicks from defenders, but gave just as many back. I'm sure Steve Lomas' jaw is still shaking from Bergkamp's elbow after trying to win the ball from him in an FA Cup tie in 1998.

After you hear the same piece of music numerous times, it somehow sounds better when led by a world-class conductor. However many goals you can watch in football, they'll always look better when orchestrated by Bergkamp. Even the most biased Gooner will admit that Arsenal's tune could be quite boring before Bergkamp arrived in Highbury. Arguably, the former Ajax and Inter player was the first part of the symphony that ultimately led to the unbeaten season in 2004.

One of my greatest Bergkamp memories emphasizes the point. When Leicester City visited Highbury in 1998-99, Bergkamp didn't get on the score sheet in a 5-0 win, but he supplied four perfect assists as Nicolas Anelka had a hat trick and Ray Parlour bagged a brace. It was Bergkamp at his imperious best in bringing others into play and being at the centre of a dominant team performance.

It would be incredibly difficult to sign anyone in world football who would have half of the impact at Arsenal that Bergkamp did in his 11 years at the club, but a similar sort of statement could come this summer in the transfer market. As fans wait for that to happen, June 20 does bring great memories ... and the hope that when Arsenal does dip into the transfer market for a big name, a legend can emerge.