Sagna should stay one more year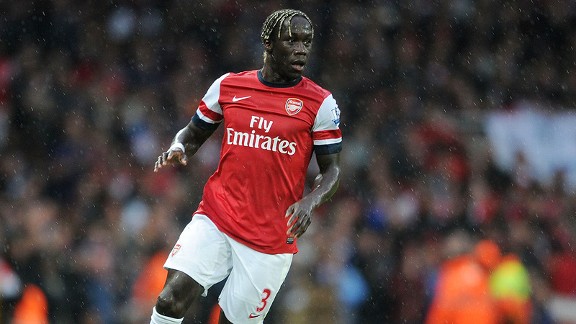 David Price/Arsenal FC/Getty ImagesBacary Sagna has been troubled by injuries the last few seasons at Arsenal.
It remains to be seen if Bacary Sagna will be an Arsenal player next season, but it would be a good idea for the Gunners to keep him.

I don't think anyone would suggest the French international had his finest season in 2012-13. He missed the beginning through injury, never quite got into the rhythm of the campaign, and despite a truly outstanding performance away at Sunderland -- where he was pressed into action as an emergency centre-half -- his most memorable moment of the season was the 15 seconds of madness when he gave the ball away against Manchester United and conceded a careless penalty trying to get it back.

- Limbert: Walcott coming of age under the radar

Yet part of what makes that so memorable is that it's so out of character for Sagna. Since he joined in 2006, Arsenal's defence has gone through some traumatic times. Weakness at set-pieces, lack of organisation, centre-halves who look like they'd only just met and took an instant dislike to each other, and goalkeepers who added slapstick comedy to top flight football.

Throughout all that, however, Sagna stood out because of the level of his displays. He was rarely found wanting. He arrived, found a great level of performance and remained consistent as all around him struggled to varying degrees.

Last season he suffered two terrible injuries. A broken leg against Spurs which put him out of action for months; then towards the end of the season a sly stamp by Norwich player Bradley Johnson broke the same leg in the same place, robbing Sagna of a place at Euro 2012.

While obviously those injuries weren't as severe as some of the breaks Arsenal players have experienced, it seemed as if there was little recognition of how that physical damage would impact on the player. Sagna was written off as 'too old' or 'past it', yet patience was urged for Aaron Ramsey whose horrendous leg-break happened three years previously.

Which isn't to say people should ignore what happened to the Welshman or how it halted his development until a welcome return to form in the second half of the season, but there's little doubt those injuries were a factor in Sagna's performances last season. Even if there's no room for sentiment in football, there ought to be understanding.

It's also worth noting that despite having a fit Carl Jenkinson available, the Englishman made just one start in Arsenal's end of season unbeaten run. Sagna played away in Munich, missed the game against Swansea, but played in the next nine games as Arsenal scrapped their way into the top four.

When it was generally the robustness and commitment of Arsenal's defending that got them over the line, the right back's contribution should not be overlooked despite his horror show against United. When times are tough, managers tend to call on experience and Sagna has plenty of that.

Arsenal gave Jenkinson a five-year contract at the same time as Jack Wilshere, Aaron Ramsey, Kieran Gibbs and Alex Oxlade-Chamberlain, so there's clearly belief in his potential, but an unwillingness to rely on him in high pressure situations unless absolutely necessary.

Jenkinson has qualities that Sagna does not. His delivery into the box from out wide is as good as anybody in the Premier League, but he's still very much learning his trade as a defender.

Sagna's contract runs out next summer, and it's unlikely there'll be a Theo Walcott-style extension. But one more year would allow him to share the burden with Jenkinson, to mentor him a bit more, and help him develop as a player. And with a good, injury-free preseason under his belt, the physical difficulties he faced last season won't be an issue.

As with Gibbs and Nacho Monreal on the other side, there'd be good, healthy competition for a place in the team, and Arsenal need to do more with their money this summer than replace a fullback they don't need to lose.