Walcott coming of age under the radar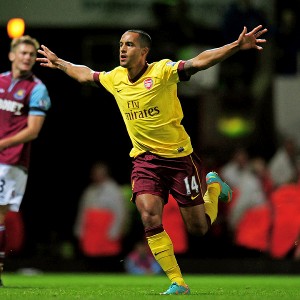 Shaun Botterill/Getty ImagesTheo Walcott is starting to realise the promise Arsenal saw in him seven years ago.
Theo Walcott has often been an easy target for criticism from fans given the expectations placed upon him when signed from Southampton in 2006. The sizable price tag (which ended up being 9.1 million pounds) didn't help Walcott either.

It seemed for a long time that the pressure weighed him down and his development wasn't as quick as many expected. However during the 2012-13 season, for one of the first times as an Arsenal fan, I found myself questioning if Gooners were being too harsh on Walcott and not giving him enough credit for some key contributions.

When there was a lot of speculation about his future at the start of the season, I found myself being overly critical of Walcott's performances. I particularly remember the Capital One Cup match with Coventry in September. Walcott hadn't been able to hold down a place in the starting XI, there were constant stories about him wanting to play as the central striker and doubts about him signing a new contract. Everything at that time seemed a bit as if Walcott was slowly being cast adrift from the club.

-Agent says Bayern, Barca targeting Koscielny

Against Coventry, Walcott scored two goals in the second half, having started on the right of the front three. Throughout the game, I thought Walcott was coming inside too much off the right touchline, as if to try and prove a point that he was a striker and not a winger.

That dubious feeling about Walcott's form persisted for a lot of fans until he signed the new contract in January as it then became clear that he wasn't playing to force a move elsewhere.

While I was frustrated on that September evening in the League Cup, it was just part of Walcott showing his improved movement and reading of the game in 2012-13.

It's well known Walcott is at his most dangerous when running into space behind a high defensive line, and with players such as Santi Cazorla and Tomas Rosicky able to thread passes in behind the full back, Walcott can be dangerous when making a run around the defender into the inside right channel. He scored against Manchester United, West Ham and Coventry from that inside right position.

He also offers the option of making a spinning run into the middle from the flanks. His first goal at Reading was a good example of moving with the play and then exploiting the space in the middle of the pitch to score.

The key for Walcott is getting the balance right and not leaving the team lopsided when making runs from the right. Because of his his pace, he's still most effective when running from wide areas as he is more difficult to mark when he has built up momentum. There are still doubts about his hold-up play and ability to lead the line as a lone striker as he can be closed down faster if the ball is played into him with his back to goal.

While Walcott did go through a lean spell without scoring during February and March, he undoubtedly stepped up as a more senior player last season to help compensate for the loss of Robin van Persie. Twenty-one goals was a good return, and was comfortably his best in an Arsenal shirt.

As one of the oldest-serving players at the club, it's easy to forget that he is just 24. Many other players have gone on to have major, prolific goal-scoring seasons when they were three or four years older than Walcott. The 2012-13 season was his best in terms of development and for important contributions to the team, and with the potential for him to improve, despite the wrangling that went on, it was good news that he signed a new contract. He's still developing and deserves some more credit for what he did last season. More of the same please, Theo.