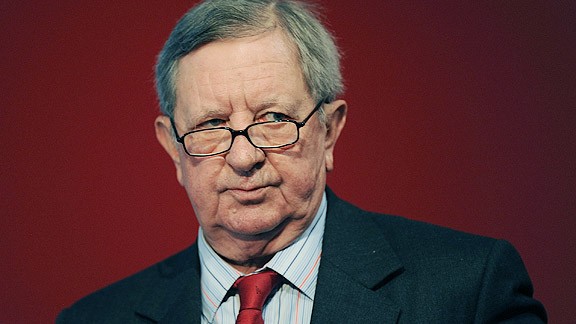 Stuart MacFarlane/Arsenal FC/Getty ImagesPeter Hill-Wood's stepping down brings an end to 84 years of Hill-Woods as Arsenal Chairmen.
In May of 1989 Arsenal and Liverpool were battling for the league title. It came down to the final game of the season, Arsenal had to win by two clear goals.

The idea of Liverpool losing by two clear goals at Anfield was almost laughable. They had dominated for so long throughout the 80s, that nobody really gave Arsenal a chance of doing it. The Gunners had, it seemed, blown their chance at winning the title when they lost 2-1 to Derby at Highbury a couple of weeks beforehand.

Everybody knows, at this stage, what happened. Alan Smith nodded Arsenal in front in the 52nd minute. There followed an excruciating, nail biting, 40 minutes in which Arsenal failed to score again.

The game was running down to its conclusion. Steve McMahon signalled to his teammates that just one minute remained. Liverpool just needed to keep the ball, so it remains a mystery why John Barnes, an experienced player, attempted a cross when he could have taken the ball to the corner.

We know that as the clock ticked ever downwards, the final whistle approaching any second, John Lukic fed Lee Dixon, Dixon pumped it forward to Smith, he knocked it on for Michael Thomas and the midfielder was through on goal. To this day, looking at replays, it seems as if he's taken too long to take the shot, that the delay would see the opening snuffed out.

But in it went, Thomas celebrated like a fish out of water, flopping about, desperate for air. With the last kick of the season, Arsenal were crowned champions for the first time since 1971. Liverpool's players were devastated, prostrate with despair. The Arsenal players went to the corner of travelling fans who knew the league was theirs in the most dramatic ending to a season ever.

Forget what people try and tell you about Manchester City's title win. They beat 10 man relegation fodder. Arsenal, while not quite David, had slain a true Goliath. In the director's box, the story goes that the Arsenal chairman, Peter Hill-Wood, popped a cigar in his mouth, lit it and turned to fellow director David Dein.

Unruffled, the very essence of calm, he turned to Dein and said, "Never in doubt."

This week, Hill-Wood stepped down as Arsenal chairman, having been in the role since 1982. He succeeded his father Denis, his grandfather before him took over as Chairman in 1929.

- Hill-Wood steps down as Arsenal chief

Modern football has moved on, things change, and clubs are now owned and run by billionaires. The role of Chairman at Arsenal has become largely ceremonial in the last few years. Stan Kroenke calls the shots these days. It's hard to imagine the American reacting in such fashion to such a dramatic win. Mostly because he rarely attends Arsenal games, but that's another story.

All things must come to an end, and this week Arsenal have lost a part of their tradition, a part of the history of the club. But the future brings new events, new faces, and new chapters in the book of a football club which will live beyond any name.

'Never in doubt', as the former Chairman might say.