Five things we learned about Arsenal this season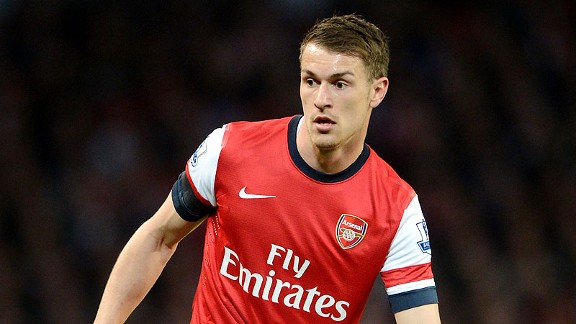 Michael Regan/Getty Images Aaron Ramsey's progress will be a focus for Arsenal fans.
As we head for the summer and into the silly season, here are five things we learned about Arsenal from the 2012-13 campaign.

1 -- They can defend
Although the defensive side of their game draws plenty of criticism, the Gunners ended up with the second-best defensive record in the Premier League. Only Man City conceded fewer goals.

It was apparent at the start of the season, when three clean sheets provided hope that the calamitous errors were a thing of the past, but they settled back into old, bad habits before righting themselves for the run-in. In their final 10 league games, they conceded just five goals (two of them penalty kicks), and without that defensive discipline their tremendous run to the top-four finish would never have happened.

This newfound focus on that part of the game, which was made possible by the entire team's efforts and not just the back four, must be the starting point for next season's blueprints.

2 -- They need a striker
Olivier Giroud had a decent first season in English football, and while it's easy to compare and contrast him to Robin van Persie, the fact is that manager Arsene Wenger bought three players to make up for the loss of the Dutchman.

Arsenal were the only club to have four players in double figures for Premier League goals this season. Overall, Giroud (17), Walcott (21), Podolski (16) and Cazorla (12) provided an excellent return in all competitions.

It certainly paints a more healthy picture, making them less reliant on one player for their goals but providing more competition up front, and a genuine alternative to Giroud will give them much more depth next season.

3 -- Creativity is an issue
The departure of Cesc Fabregas robbed Arsenal of the one of the game's most creative players, and although Santi Cazorla created a total of 95 chances (via Squawka), the rest of the team fell a long way short. The next highest were Wilshere (47), Ramsey (44) and Walcott (38).

While better options up front will make it easier for the midfielders, adding somebody who can find that pass in a tight game could make a big difference.

4 -- The run-in showed the value of the squad
It's not unreasonable to suggest that some of Arsenal's most important players in the final third of the season were ones whose contribution until then had been less than telling.

Tomas Rosicky and Aaron Ramsey added energy and zip to a tired team, Laurent Koscielny came in from the cold to help stabilise the defence, and Lukasz Fabianski's return coincided with a good run of results and helped refocus an unconsciously complacent Wojciech Szczesny.

Even at left back, Kieran Gibbs and Nacho Monreal swapped places, the former preferred for home games and Monreal away, and the competition was healthy.

There's a tendency to write off players too quickly. Football is no longer a team game, but a squad one, and while plenty of Arsenal fans would have happily dispensed with Ramsey around January, the Welshman showed how important it is to have players who, while not necessarily world-beaters, can perform an important role in the side.

5 -- Wenger showed he's not as intractable as many think
It might have been better late than never, but the Arsenal manager made some brave decisions which sparked his team back into life. Koscielny replaced skipper Thomas Vermaelen at the heart of the defence; Fabianski, out of the game for over a year, was drafted in to play a big part in the club's most important result of the season (the 2-0 win over eventual Champions League winner Bayern Munich); and Wenger's faith in Ramsey was, perhaps, forced by injuries to Diaby and Wilshere, but was rewarded nonetheless.

Wenger's realisation that he had to change the way his team operated, and played, came just in time to save their season and, hopefully, gives him a much better platform to build on heading into next season.