Stopping the City supply line
The summer that has just passed felt like a standard traumatic one for Arsenal fans with top players leaving and expectations being lowered even further. But one of the most refreshing things this time around is that we didn't sell anyone to Sunday's opponents, Manchester City. Having sold four players to them in the three summers before, and with their reported interest in our captain, managing to momentarily halt the feeder club accusations was a relief.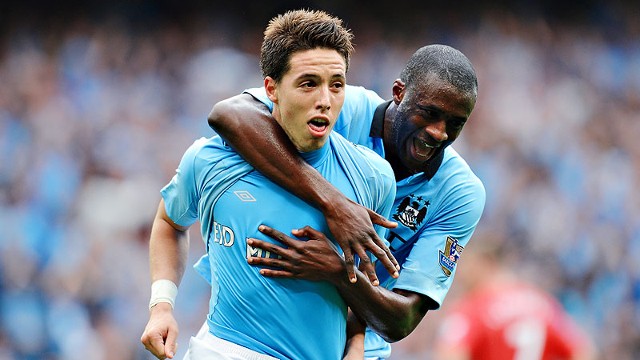 GettyImages / Shaun BotterilSamir Nasri: Swapped Arsenal for Man City last summer.


It was painful for Arsenal fans, but it was hard to avoid the fact that we did feel like Manchester City's feeder club. In the last five years, Kolo Toure, Emmanuel Adebayor, Samir Nasri and Gael Clichy were all important players for Arsenal, yet all disappeared to the blue side of Manchester. Add to the list the players that indirectly were fed to City via Arsenal, and it begins to look a bit careless from our point of view. Silvinho, Stuart Taylor, Richard Wright (although we're not overly gutted about him being at City), and most frustratingly, Yaya Toure, all had their foot in the door at Arsenal. And with Theo Walcott out of contract at the end of the summer, there's always a chance that he'll be the next to take some Manchester millions.

The match with City at Eastlands on Sunday is being hailed as a true test of our title challenge. In many ways, it will be. They should provide our toughest test of the season, and going away to the current champions is always difficult. On top of that, the match will be a good opportunity to show that the club aren't overawed by what the City can throw at us.

Hopefully, by not selling anyone to City this summer, the players can get over the fact that there are some former Gunners in their squad. We have a much changed squad ourselves, and a large number of them will never have played with the likes of Toure and Clichy. Taking some of the emotion and animosity out of the match should give us a better chance of winning.

Passion is vital to club football, so I'm not suggesting that the players take it out of their game altogether, but being able to distance themselves from any ill feelings between the clubs should enable Arsenal to continue the progress made this season.

To win the match, Arsenal need to keep their heads and focus on the shape of the team. It's what the Gunners have done well so far this season, and doing so again could see them spring a surprise. The team is looking calm and settled, and that shouldn't change because of the occasion of playing the champions.

Arsenal are the only team in the Premier League that could go to Manchester City and dominate the possession. If the Gunners do that and frustrate City, it is their emotions that will boil over. After their defeat to Real Madrid, Arsenal at risk of a backlash, but they could also be so determined to make up for that match, that they'll over play situations.

The Gunners need to stop the City supply line to the strikers on Sunday. Tevez and Aguero will present a different challenge to Mertesacker and Vermaelen, so to give them the best chance of keeping a clean sheet, Arteta and Diaby will have to break the play down and get the ball forward quickly. Despite not scoring yet, Olivier Giroud should start as he'll help keep possession, will occupy defenders and will make space for runners from midfield.

It will be difficult match, but not one Arsenal should be afraid of. A defeat will obviously not mean the end of a title challenge, but it'll be a reminder that the team are still developing. Similarly, a win won't deliver the title, but would make a statement to the rest of the league that Arsene Wenger's team aren't just a feeder club to other big teams; they're one that's ready to step out the shadows.