Giroud the central man for the final day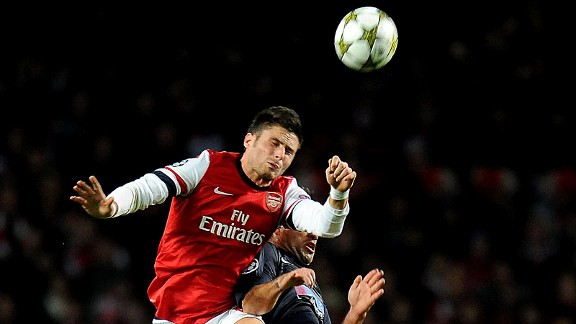 Press Association/AP ImagesOlivier Giroud could be the main man against Newcastle.
With the title race finished long ago and relegation issues already sorted, only one main point of interest remains in the Premier League table on the final day of fixtures.

For those in the rest of the country, the top-four fight might not hold much significance, but in London, its importance has been steadily bubbling up during the season run-in.

A quick glance at the form table shows how Chelsea, Arsenal and Tottenham have not relented in trying to make it in to next season's Champions League. Whoever does make it in to Europe's top competition by 18.00 BST Sunday will undoubtedly have earned it, and the team that misses out will consider itself unfortunate to have been caught up in a strong race.

- All set for an excruciating final day
- Waiting for good news on the final day
- Five reasons why Spurs fans should have hope

The equation for Arsenal is simple: beat Newcastle and a place in the top four is theirs. Whether that place is third, fourth or dependent on a playoff will be of concern only after winning the match.

With the team on a roll of good results, choosing the starting XI shouldn't be difficult for Arsene Wenger, but there are two key decisions for the manager to make.

The only major downside to the 4-1 victory over Wigan on Tuesday was seeing Mikel Arteta limp off in injury time. He wasn't at his most effective in that match, but Arteta's importance to Arsenal can't be understated. The obvious choice for Wenger is to play Jack Wilshere alongside Aaron Ramsey, but with Wilshere's impending surgery, doubts persist about his fitness. That leaves the possibility of starting Francis Coquelin or moving Tomas Rosicky back into the deeper lying midfield role.

That latter option could be preferable because of the space it would leave for the man returning to the squad further up the pitch. Olivier Giroud hasn't featured since his sending off at Fulham. With two wins and a draw in his absence, his return to the starting XI is far from guaranteed. Lukas Podolski has filled the central striker role for three games and netted twice against Wigan, but overall he hasn't linked up as well with the rest of the team as the Frenchman does.

Having missed three games, Giroud will be eager to make an impression and contribute to a top-four finish. While not the quickest player on the squad, he should be full of energy and able to occupy defenders to make space for those around him. Even though he hadn't been in great scoring form before his suspension, his linkup play could be crucial against Newcastle to create chances for those who are hitting the net. Theo Walcott, to his right, has three goals in as many games, and Podolski could return to the left after his midweek brace.

Should Rosicky fill the deeper midfield role alongside Ramsey, Santi Cazorla could return to playing centrally behind the main striker. To have a front six of Ramsey, Rosicky, Walcott, Cazorla, Podolski and Giroud might seem more attacking than recent weeks and may be risky given the better defensive focus of the team since February, but it could be the best way of fielding those players who are in form, filling the Arteta-shaped gap in midfield, protecting Wilshere and accommodating Giroud to give the team some more attacking options.

Unlike some other last-day experiences for Arsenal, there should be no need to worry about what Tottenham are doing. Playing an attacking lineup would be a statement of intent from Arsenal and can ease the inevitable nerves Sunday afternoon.