Walcott's all-around display catches the eye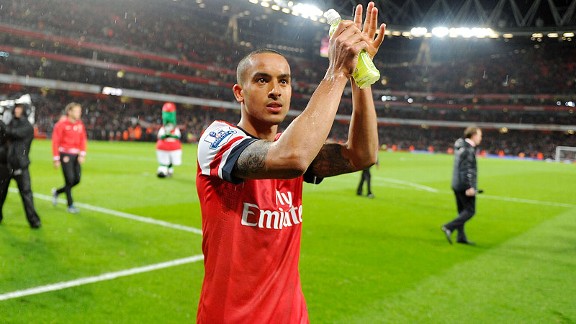 David Price/Arsenal FC/Getty ImagesTheo Walcott put in his best defensive work of the season on Tuesday night against Wigan.
Although it felt a bit touch and go for a while and Wojciech Szczesny's early second half save proved hugely important in the overall scheme of things, I think it's fair to say Arsenal thoroughly deserved their 4-1 win over Wigan last night.

- Limbert: Arsenal counter back into top four
- Delaney: Defensive woes sink Wigan
- Marcotti: Arsenal-Chelsea playoff?
- McAleer: Don't take my Champions League

We hear often about how crucial it is to take your chances at this level. Wigan failed to go ahead when Szczesny denied Arouna Kone, and when Arsenal created openings, they finished them, along with the FA Cup holders' chances of staying in the Premier League.

In terms of individual performances we can look at the hugely influential Santi Cazorla, who chalked up four assists on the night (as many as Gareth Bale has produced all season, by the way); the reliable and wonderfully consistent centre-half pairing of Per Mertesacker and Laurent Koscielny; or even late goalscorer Aaron Ramsey who, despite a difficult second half, added the icing to the cake with a goal his recent form has merited.

For me, however, the most striking display of the night came from Theo Walcott. The England man saw his form drop since signing a new deal back in January, but he's found it again at exactly the right time. After an 11 game spell without a goal, he's now scored in his last three games and all of them have been important. There was the opener against Manchester United, the 20-second winner at Loftus Road to beat QPR, and Tuesday night he put Arsenal ahead at a time when the game might have gone either way.

But our eye shouldn't be caught by his goalscoring. Although it's by far and away his best season in front of goal, with 21 in all competitions, last night saw him effective at both ends of the pitch. If there's a criticism of Walcott, it's that games can pass him by. This applies to him as an attacker, but equally so when it comes to his defensive duties.

Too many times he's allowed opponents to run past him into dangerous areas; he doesn't track back as well or as regularly as he should, and he's hardly renowned for his strength. Yet last night against Wigan it was like somebody had flicked a switch. He was aware, he chased back, made tackles, and at one point shouldered an opponent out of the way like a gnarly old centre-half.

I'll admit freely I find Walcott a frustrating player. His attacking flaws I've learned to live with, but his uncanny ability to not get involved in games is maddening at times. So I hope Arsene Wenger and Steve Bould sat him down after last night's performance and told him that's the way he should be playing, week in week out.

He's 24 years of age now. He no longer has the callowness of youth as an excuse, and he's nearing 300 first team appearances for the club. While it's unrealistic to expect him to produce in the final third in every game, it's not too much to ask that he works hard and helps out in other areas when it's needed.

I'm hoping the switch that was flicked wasn't just a one off -- a bit of extra effort because of how important the game was. The reality is that the games at the start of the season, where Arsenal dropped careless points, were just as crucial. It's only that we're heading towards the end of the season that the pressure builds.

Which isn't to say those points were all the fault of Walcott, far from it. His scoring contribution this season is second to none, but we saw against Wigan how he could become a better and more influential player.