Deja vu despite Wigan's heroics
As Arsenal approach their final home game of the season against Wigan on Tuesday night, I can't help but feel a sense of deja vu going into the match. Despite Wigan breaking new ground by superbly winning the FA Cup on Saturday, their visit to North London late in the campaign will be nothing new. Arsenal have had experiences that can both reassure and worry fans before the important game.

With Wigan scrapping to survive last season, they came to the Emirates late in the campaign to face an Arsenal team that had been in good form, with it seeming like Wigan were finally not going to be able to pull off their usual escape act. However, within 15 minutes Arsenal found themselves 2-0 down as Franco di Santo and Jordi Gomez netted goals on the counterattack. Despite Thomas Vermaelen heading in for Arsenal, an equaliser didn't come.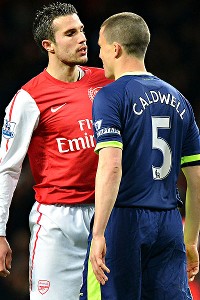 Ben Stsnsall/Getty ImagesRobin van Persie and Arsenal seemed to overlook Wigan during their chase for a Champions spot last season.
Considering the run that Arsenal had been on in the build-up to that match as they tried to secure Champions League football, there was a sense of taking Wigan lightly given their predicament in the table. The defending was slack, the midfielders were static and Arsenal seemed bereft of attacking ideas. Wigan took full advantage and eventually stayed up.

Apart from Manchester City fans, it seems fair to say that almost everyone in football was delighted to see Wigan win at Wembley. It was a magical moment that reminded all fans why they love watching the game. For Arsenal players watching the game, it should also serve as a reminder to not be complacent against the Latics, as they were last season when the defeat almost derailed the Champions League charge. With so few games left this time around, a similar defeat for Arsenal could be much more damaging.

The goals Arsenal conceded that night were typical of the ones that have dogged the clubs' defence in the last few seasons and are the sort of goals that Arsenal's back four have eliminated from their game in recent weeks. Keeping a similar level of concentration should mean that another defeat can be avoided.

However, fans do have some good memories of facing Wigan in the last home match of the season. Famously, they traveled to Highbury on the final day in 2006, and with all of the emotion surrounding leaving the grand old place, it would have been easy for Arsenal to take their eyes off that game. When they were 2-1 down, it looked as if they had done that.

A Thierry Henry hat trick eventually saw off Wigan that day as Arsenal powered to a 4-2 win which, coupled with Spurs' literal ill-fated defeat to West Ham, meant the Gunners finished in the top four. Arsenal were reliant on Tottenham dropping points that day, but after last week's results, they know that two wins from two will be enough to finish in the top four. However, with Spurs still close to Arsenal, the sense of deja vu with Wigan standing in Arsenal's path is strong.

After being so chuffed for them Saturday, it now feels slightly harsh to suddenly be desperate for Wigan to lose Tuesday night, especially as it could mean their greatest achievement as a club is immediately followed by relegation from the Premier League. This is the fickle world that football is, though. If Arsenal's need wasn't great, then potentially the fans might be slightly more forgiving toward Wigan's Premier League plight.

Learning from previous encounters and the incredible way that Wigan won the FA Cup should mean the Latics get no favours from Arsenal, so the Gunners can finally be close to securing their place in Europe's top competition next season.