Three FA Cup final memories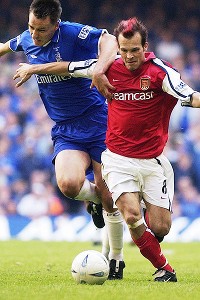 Stu Forster/Getty ImagesThe memory of Arsenal's Freddie Ljungberg evading a young John Terry to score in the 2002 FA Cup final never fails to make the author smile.
Due to the fact that Arsenal play Wigan on Tuesday and, as this was written, Wigan was on the way to winning the FA Cup, there's something of a dearth of Arsenal news.

So, here are some of my favourite FA Cup final memories.

1979 - I posted a piece about this on my blog Saturday, but it was the first game I remember watching. Arsenal took a 2-0 lead over Manchester United, only to let them score twice in the final two minutes to equalise. I was heartbroken -- then, from the next kickoff, Liam Brady made things better.

He set Graham Rix free down the left, Rix crossed to the back post and Alan Sunderland won the Cup for the Gunners. It was a goal I recreated countless times, playing the role of all of the players, doing the commentary, and wheeling away in celebration like the curly hero.

The following year Arsenal lost the FA Cup final to second-division West Ham. Brady gave away his loser's medal, then signed for Juventus. Thankfully there was no Internet to live every moment of that transfer saga.

1993 - A replay against Sheffield Wednesday. The first game was horrible, the second not much better. It's heading to penalties when Arsenal get a corner. Paul Merson lofted it in, Andy Linighan rose highest to head it home to win the cup. The player supposed to be marking Linighan, Mark Bright, had broken the big defender's nose with a swinging elbow earlier in the game. What goes around . . .

2002 - It's Arsenal vs. Chelsea. The Gunners are 1-0 up after Ray Parlour's wonderfully curled shot into the top corner. Freddie Ljungberg picks up the ball in midfield, there's space behind the Chelsea defence. He knocks the ball into the space, John Terry comes over, tries to muscle Freddie out of the way.

Rather than the slight Swede going flying, it's the Chelsea defender who goes flying. The first high-profile falling over of his career. I love it when he falls over. Ljungberg continues and curls a shot past Carlo Cuducini to make it 2-0. Lee Dixon, behind the goal warming up, throws his arms up in the air.

Arsenal have won the Cup, and the double, and John Terry fell over. Fun times. It's a cup Arsene Wenger has won four times, it's a shame Arsenal haven't been more involved in recent times because although it's fallen down the pecking order with the emergence of the Champions League, it's a competition which provides great memories.