Maker's logo on shirt doesn't matter -- it's the money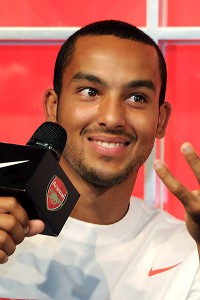 Stuart MacFarlane/Getty ImagesThe ubiquitous swoosh (seen during a Nike-sponsored Theo Walcott press conference) may disappear from Arsenal wear. But it doesn't matter as long as sponsors continue to fill the Gunners' coffers.
Rumours about Arsenal's next kit manufacturer have been circulating for some time. As the deal with Nike draws to a 2014 close some said they'd renew for a whopping fee; others were quite convinced that adidas would come on board and return to making the club's kit.

The German giants made Arsenal's kit in the 1980s and '90s -- some were splendid, some iconic but not so pleasing on the eye, but it was a big surprise when it was leaked that Puma would get the gig.

The reaction across blogs and social media has been interesting. For every fan who accepts the financial elements of such deals are the most important, there are others who bemoan the departure because they simply don't like the way Puma makes shirts.

-Fabianski ready for keeper battle
-Costa pledges to stay at Atletico

They prefer Nike's designs -- even if some, including this year's away shirt, have been pretty ghastly -- or they're advocates of adidas.

Brand loyalty is a curious thing. One person suggested to me such was their depth of feeling for the Arsenal-Nike association that a bit of their love for the club had died at the news they wouldn't be making the shirts any more.

Down the years Arsenal have been associated with various sponsors; fans of a certain age will feel a connection with JVC simply because they were on the front of the shirt for so long.

But when someone else came along to pay more money, the loyalty between the club and that corporation was gone. And when another big company paid more than the last big company, that changed things again. So it will continue -- he who pays the piper calls the tune -- but I found it curious that people associated a company who makes sportswear so closely with their football club, and their affection for it.

It's also a sign of how following a football club has changed that such a deal provokes so much analysis. It was the same when the new terms with Emirates were struck for the shirt and stadium sponsorship deal announced back in November of last year.

Suddenly, as well as being experts on tactics, fitness, management, coaching and all the intricacies of the game, fans are financial whiz kids, marketing gurus, brand managers and fully accomplished in the world of multimillion pound deals at massive businesses.

Everything is contextualised, crunched up and spat out. "It's a good deal!" some will say, while others rant about how market forces and long-term fluctuations will prove it a bad one. Ultimately it's another £30m a season on top of the other recently announced £30m a season, and isn't that all people should contend themselves with?

It seems there isn't a single element of a football club that isn't audited by the Internet. From board, to manager, to players, to coaching staff, to the marketing department, the press office and so on. It's no longer just about football, it's about arming yourself with all the information about all aspects of what goes on. What is it they say -- Jack of all trades, master of none?

I get that some people prefer Nike trainers or adidas running shorts or Puma singlets, but no fan should believe any of these companies, or sponsors, have any true association with their clubs. Arsenal have them to make money, they have Arsenal as a massive great advertising tool.

That's all it is, and once the money is favourable and invested properly and wisely in the team, it doesn't matter who makes the shirts or whose name is the front.

P.S.: I've always been surprised that Canon never tried to make a deal with the Gunners. Too obvious?