Striking a goal-scoring combination?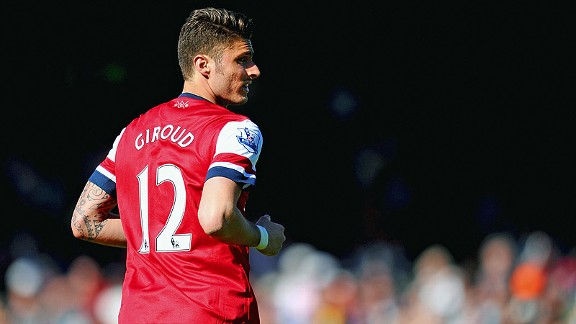 Mike Hewitt/Getty ImagesArsenal have still managed to get results even without the suspended Olivier Giroud.
When Olivier Giroud was sent off in the dying moments of the match with Fulham, apart from the initial stress that it caused supporters while Arsenal saw out the match with 10 men, there were a number of fans who were relieved to know that the Frenchman would miss three games. Giroud hadn't been in great scoring form, but the team has missed his linkup play in the last two matches.

Arsenal have been able to pick up four points in the absence of Giroud but have scored only two goals. Both of them have come from a through ball into the inside right channel with Theo Walcott finishing across the goalkeeper. Otherwise, there has been a surprising lack of creativity in Arsenal's attacking.

There is a lot of pressure on Santi Cazorla to create chances for Arsenal, and after a good first season for the club, opposition midfielders and defenders are now quick to close him down and make it difficult for him to find space. With Tomas Rosicky featuring the team more often, there was the potential for more creativity behind the main striker, but I'm still undecided as to whether Cazorla and Rosicky's playing styles complement each other, as both are keen to operate in the central attacking midfield position.

Arsenal's forwards have been in the news recently with Theo Walcott saying he's happy on the wing, reports about Lukas Podolski needing ankle surgery and Giroud saying he's had a good first season.

Walcott is still at his most dangerous from the flanks, as shown by his runs from the right to score in the last two games. Podolski definitely hasn't seemed to be 100 percent recently, but that could be down to form and trying to adapt to playing in the centre of Arsenal's attacking three rather than an injury problem. As for Giroud, he's had a good first season in the context of not being Arsenal's lead striker. However, as that's the role he's had to adopt for most of the season, that's what he'll be judged on. The fact him not playing has seen Arsenal not create many chances could change some fans' opinions of him.

To highlight Giroud as the key to goals would be oversimplifying the situation, as the striker was playing for the majority of the 0-0 draw with Everton and 1-0 win at Fulham. The balance of the front line hasn't been consistent for the whole season, plus the whole side has seemingly changed tact in recent weeks.

That arguably comes from the team having more of a focus on a solid defence. While scoring chances haven't been regularly coming to Arsenal, the better defence is something that fans have wanted for the majority of the season. One of the reasons for fewer chances is that there are fewer driving forward runs from the deeper lying central midfielders. Aaron Ramsey has been one of the most consistent players in recent weeks and has deserved his place in the side, but he is more of a solid option in midfield rather than a creative one.

Alongside Mikel Arteta, both have been happy to play in more withdrawn roles to give the back four better protection. Per Mertesacker and Laurent Koscielny have deservedly had a lot of praise for Arsenal's clean sheets, but the work done by Ramsey and Arteta has been a big part as well.

Grinding out 1-0 wins and making the Champions League positions without scoring many goals will be more than welcome for the rest of the season, but it is surprising to see Arsenal's attacking play not looking as slick as Arsene Wenger teams have been famed for. The lack of chances isn't for a lack of effort, but with a more concentrated defensive focus from the team, it's a consequence of keeping teams out.