Discussion post: What kind of keeper do Arsenal sign?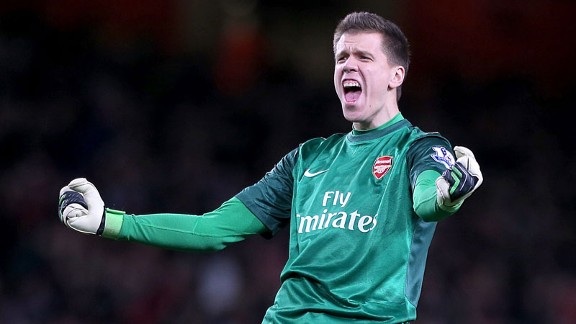 PA PhotosWojciech Szczesny says he is not thinking about playing for any other team
It's clear Arsene Wenger has a lot of faith in Wojciech Szczesny. When he was given a chance to stake a claim for the No. 1 position -- rather ironically presented when he took a shot at Lukasz Fabianski in a warm-up, injuring his fellow Pole -- the manager was prepared to accept the inconsistencies that come with young goalkeepers.

Szczesny is confident, perhaps overly so at times, but many goalkeepers have this kind of characteristic. He's certainly one of them, and it will manifest itself throughout his career, but age and maturity should see him channel it better.

Dropped in March for Fabianski, who hadn't played in more than a year and who quite publicly has stated his desire to leave Arsenal, he's back in the side after another Fabianski injury.

Szczesny's performances since he came back have impressed Wenger, with the manager saying after the win over QPR on Saturday: "I must give him credit because in this competition, he responded very well, worked hard and when he came back, he was sharper when I left him out, from the first game on. He has responded very well."

It was, in footballing parlance, a kick up the arse. His performances weren't abject, by any means. He had made some mistakes but clearly Wenger felt he needed to be reminded that the No. 1 requires a consistent level of performance. Maybe there was some complacency on the Szczesny's part -- being left out of the side for almost six weeks would have been something of an eye-opener, and there are signs that it has done the trick.

The issue now is the summer. Does Wenger have confidence that the short, sharp shock he provided is enough to keep the young man on his toes, or does he go out and buy a goalkeeper who can properly compete over the course of a season?

It's a tricky one. A relatively young keeper might not want to come to a club where first-team football is not guaranteed. A keeper in the latter stages of his career may not provide the kind of environment that the Arsenal manager wants, where the obvious choice is Szczesny.

At the same time, Arsenal have put a lot of groundwork into Szczesny. He's still just 23, and in the life of a goalkeeper that's very young. More than any other position, they learn from their mistakes, and Szczesny has more than 100 first-team appearances already; Wenger has to be careful not to quash the potential altogether. If Szczesny finds himself benched too often, he may go somewhere else, that club benefiting from the work Arsenal have done and his increased maturity.

So, what kind of keeper should Arsenal sign this summer? A Simon Mignolet, for example, a player who would fight it out for the top spot but, realistically, there can only be one winner and that would mean the departure of the other?

It means losing an investment of either time or money; it's a decision that could backfire, given Szczesny's age and potential.

Or somebody more mature, who can be called upon to perform consistently, from whom Szczesny can learn, but who isn't going to provide a threat in the very long-term, but leave him in the comfort zone?

Your thoughts, please.