Arsenal need to be wary of newly relegated QPR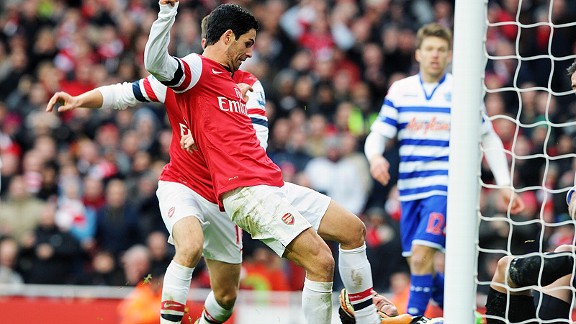 David Price/Arsenal FC/Getty ImagesMikel Arteta's late winner sunk QPR when the two teams met in late October.
On paper, it should be no contest. Arsenal, fourth in the table, unbeaten in their last eight Premier League games, take on QPR, already relegated -- a team that has won just six games all season long (in all competitions).

- Walcott desperate for central role

Yet there are no real certainties in football, not least when taking Arsenal into account. I would say they're as capable of beating the best as losing to the worst, but only once have they beaten a side obviously better than them this season -- the 2-0 win at the Allianz Arena over Bayern Munich.

Which would be fine but they haven't managed to fully kick the habit of losing to teams they really ought to beat. Norwich, Bradford, Blackburn, all dirty great grass stains on the freshly washed pants of the Gunners this season, and QPR this weekend does represent something of a banana skin.

When battling relegation there's huge pressure. Regardless of how appalling Mark Hughes was, no matter how little effect Harry Redknapp had, ignoring completely the players who have underperformed and under-cared (if I can get away with such horrendous use of the English language), there is monstrous pressure when battling relegation. Defeat begets defeat, the failure is self-perpetuating, and not winning becomes a dirty, hard to shake, habit.

Not even Redknapp's November installation helped. Sometimes there's a very short-term bump as the players try harder and give that bit extra to impress the new boss, but it took five games before Redknapp tasted victory. They have been abject, their demotion to the Championship can't be argued with in any way, yet strangely Arsenal might face a different Rangers side this weekend.

Now, there is no pressure. The spectre of relegation no longer hovers over them, and perhaps it will allow them to play with more freedom knowing that whatever happens the result can't make things any worse. They have to face the home crowd, whose fans have been far from happy at what's gone on this season, but assuming that's not too hostile perhaps they'll give them something to cheer.

Wenger's team need to beware. Previous seasons have shown us that they only last so long when they're given the kick up the tail that a bad result or performance brings. They redouble their efforts, work harder, praise the collective improvement, then think they're brilliant again and get reminded that they're not.

This is undoubtedly their best run of results this season, but it would be so typically, maddeningly, stereotypically Arsenal to battle a draw against the champions one week, then self-destruct against a bottom of the table team the next. They have to approach it as they did the games against United, against Bayern, against Everton.

They got out of jail a bit against Norwich; they hung on valiantly, and a bit luckily, against West Brom and made extremely hard work of beating 10-man Fulham. If not quite living on the edge, they're certainly cruising the outskirts. With just three games remaining this season, a slip up this weekend could prove fatal to Champions League hopes.

It might sound ultra-cautious; a bit worst case scenario, but history has taught us that it's far from implausible when it comes to this Arsenal side.