Wenger not on managerial merry-go-round
With just three games left in the season and the summer approaching, rumours at this stage are usually in full swing about which big name player will be the next to leave Arsenal. However there's no Cesc Fabregas, Robin van Persie or Samir Nasri for the press to speculate about in the squad this time around.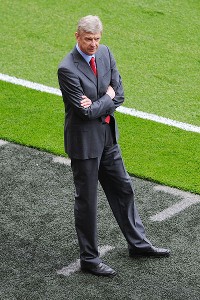 David Price/Arsenal FC/Getty ImagesArsene Wenger isn't going anywhere, according to Arsenal chairman Peter Hill-Wood.
In the last couple of days, focus has switched to Arsene Wenger, with Paris Saint-Germain reported to be interested in his services as part of a surreal managerial merry-go-round with Carlo Ancelotti going to Madrid, freeing up Jose Mourinho to potentially move back to the Premier League, and so the spiral could continue.

Chairman Peter Hill-Wood has been quick to squash any rumours of the manager leaving, and if Wenger's loyalty to Arsenal, and his constant pledge to honour his contract is anything to go by, Hill-Wood's words don't come as a surprise.

-Johnson: The PSG view

Having watched a lot of PSG this season, I'm struggling to see how Wenger would fit in at a club so full of egos and one that seemingly goes against his footballing philosophy. As a longtime supporter of financial fair play, to go to a club that have assembled their current squad from throwing some monetary weight around just wouldn't match Wenger's history of careful spending, even if he did spend £8 million on Francis Jeffers.

For better or worse, Wenger has a lot of power within Arsenal, as he can manage the team the way he wants without interference from the board-room level. Looking around Emirates Stadium also shows the legacy that the man will leave when he eventually parts company with the club.

Innovations and subtle touches within the stadium were heavily influenced by Wenger. It would be unlikely that Wenger would get anywhere near that level of control at a club like PSG.

One of the only things that could arguably make PSG appeal to Wenger would be that it is nowhere near a complete project. While they are on the verge of winning Ligue 1, PSG have hardly done it in a blaze of glory, saving their best performances for Europe rather than the domestic league.

Considering how much they have spent in the last two years compared to their Ligue 1 rivals, they really should be strolling to the title. PSG have also been heavily reliant upon Zlatan Ibrahimovic, meaning there is plenty of room for development in the squad. I'm not sure if the quality of the French League is good enough for PSG to sustain themselves as a European super club, as is the hope of the owners, but it would make for an interesting challenge for a manager.

However, Wenger still has unfinished business at Arsenal Football Club. There were some considerable rumblings from some supporters earlier in the season about wanting the manager to leave the club, and those frustrations born out of a trophy shortage are justified. Had a new manager come in during this season, I doubt they could have put a much better run of results together than Wenger has recently, showing that the Frenchman can't be written off completely yet.

As much as PSG would be a challenge, he should view the coming summer at Arsenal as the better challenge because it could set up his last big contribution to the club before his contract ends in 2014.

Such is Wenger's desire to bring success back to Arsenal, and the bond that he has with the club, stories of him having his head turned by the financial lure of PSG seems a bit far-fetched to me. Whether the fans would want him to leave in the summer is a different matter altogether, but I think that it is safe to assume that Wenger will remain to give his all for Arsenal Football Club.