Defending towards the top four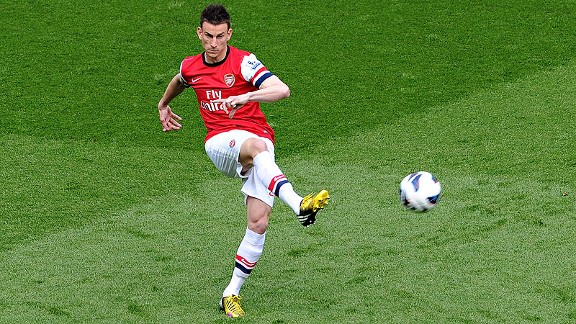 David Price/Arsenal FC/Getty ImagesArsenal's climb toward a top four finish has coincided with center back Laurent Koscielny's best football of the season.
It was hard to be too frustrated with the 1-1 draw versus Manchester United on Sunday because of the fear before the match that the champions could potentially steam roller Arsenal while riding the crest of their title-winning wave. There were obvious regrets to have not won the game, but considering some of the chances that Manchester United created, there was also relief to have not lost the game.

- Szczesny confident of top four finish

Without Olivier Giroud, there were plenty of moments during the game when Arsenal lacked a focal point up front and were reluctant to put crosses in without a big man in the box. Lukas Podolski couldn't get himself into a position to showcase his finishing. Despite plenty of endeavour from the midfielders, the cutting edge wasn't quite there around the edge of the box as Arsenal's decision making let them down when openings arose.

With the return of Robin van Persie, it was easy to say that it was a case of being horribly reminded of what Arsenal are missing without a main striker. While he did score from the penalty spot, van Persie was kept as quiet as the Arsenal defence could have hoped so there wasn't a brutal first-hand reminder of his striking talents.

That was mainly down to another impressive display from Arsenal's centre-backs and goalkeeper. Since losing in the North London derby, Arsenal have been on an impressive unbeaten run, and for a team that is famed for their attacking play and often criticised for not being water-tight, it's the defensive side of the team that is leading the charge towards the top four.

Per Mertesacker and Laurent Koscielny both impressed, with Mertesacker again showing how well he reads the game with some crucial interceptions and clearances. Alongside him, Koscielny is back to the best form he showed at times last season. He was determined to not let van Persie get many opportunities and had the slightly crazed look in his eye that was evident in his best matches last season. Mertesacker and Koscielny complement each other well with Koscielny able to attack the ball when it's played forward towards the striker and Mertesacker able to sit slightly deeper to sweep up if necessary.

The form of those two has helped Wojciech Szczesny slot back into the team in goal after Lukasz Fabianski's injury. But for an unsaveable penalty, Szczesny could have claimed a third successive clean sheet. With calmer centre backs in front of him, the defending is less frantic, and Szczesny has been able to make better decisions when the ball is near the box. Confidence in the defence can spread to the rest of a goalkeeper's game, emphasised by the point-blank face save the Pole made from van Persie.

It was just a shame that Arsenal's good defensive performance was let down by Bacary Sagna. He's been one of Arsenal's most consistent performers in recent years, but hasn't reached his best form this season. With Carl Jenkinson waiting in reserve, Arsene Wenger shouldn't be afraid of dropping Sagna, much in the way he has left out Thomas Vermaelen recently.

Even though Arsenal only have fixtures left against teams that are either relegated, or are in the dog-fight at the bottom of the table, they still need to find a solution to correct the balance of the attack without a main striker to hold the ball up and have as an option to cross the ball into. However, while the defence are still playing well, Arsenal will only have to create a few good chances in a match to be able to claim enough points to finish in the top four.