Respect and honour at the Emirates?
It was looking set to be the perfect scenario for anyone who found themselves amused by the dismay Arsenal fans suffered last summer when their captain and leading scorer left for Manchester United.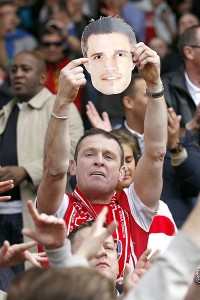 Ian Kington/Getty ImagesArsenal supporters were quite enamored of Robin van Persie last season. He very likely will not get the same treatment when he returns to the Emirates.
Having not won a league title with the Gunners, he would come back to put the seal on a first championship medal by scoring a late winner at the Emirates Stadium, causing Gooners to combust with anger in the stands.

As much as Tottenham's victory over Manchester City was immensely annoying for Arsenal fans, it allowed United to win the title on Monday night, meaning the Emirates coronation was avoided. However, that's thrown up a raft of new stories and sub-plots that a game like Arsenal-Manchester United on Sunday doesn't usually need anyway.

-Wenger: Arsenal have moved on
-Ferguson: RvP won't be intimidated
-Vela not keen on return

One of those is a guard of honour. It's not a written-down tradition as something that has to be done, but it's generally considered a classy gesture. I'm sure most Arsenal fans would regard their club as a classy one, and having been recipients of the gesture before, it does only seem right for Arsenal to afford United the guard of honour.

When asked Friday, Arsene Wenger was clear about doing it in his pre-match press conference.

The spanner in the works of the guard of honour is the fans' reaction should Robin van Persie start and be one of those honoured when running onto the pitch. As much as Wenger understandably has called for respect towards the Dutchman, as he does whenever a former player returns, it's virtually impossible for Arsenal fans to not make negative feelings toward van Persie known before and during the match.

As football fans, we're all guilty of being fickle and having selective memories. However many goals he scored for the club, a lot of Arsenal fans now only remember van Persie for THAT statement.

If he had left quietly, I doubt there would be the amount animosity he's likely to experience on Sunday. In trying to soften the blow by talking of his respect, loyalty and love for Arsenal Football Club, van Persie successfully burned the majority of the bridges he had with the club and the fans. In the eyes of Arsenal supporters, you don't say all those things and join Manchester United.

In the build-up to the match, it's also frustrating to see non-Gooners making judgments on how Arsenal fans should respect van Persie. Football is a passionate game for many people, and if others were put in the position of having a hero disrespect their club, they might have similar feelings of discontent. Those feelings would still have been just as strong whether Manchester United had won the league or not.

However, as highlighted by my colleague Andrew Mangan Thursday, the match itself is far more important for Arsenal than any of the furore surrounding individual players or guards of honour. Whatever ill feelings Arsenal fans have towards their former captain are likely to be conveyed in some manner towards him at the Emirates. What the fans have to do is channel those feelings toward supporting Arsenal.

The guard of honour is just a minor bit of pre-match ceremony, but makes for a great story. It's merely a preamble for the main event, where Arsenal are in a much better place to take on Manchester United compared to when they went to Old Trafford earlier in the season and lost 2-1 as van Persie scored in the third minute.

The absence of Olivier Giroud does present a selection issue up front, but the Gunners have a settled defence and are carrying momentum during the season run-in. With Champions League qualification just about still in Arsenal's own hands, a win is vital to still be clear of Tottenham and Chelsea by the end of the weekend.

Van Persie is gone, and while it's difficult for Arsenal fans to forget him due to his performances this season, he was just another player to pass in and out of the club. As with any game, it should be about the club and not an individual player.

The storytellers have missed out on an ideal scenario with an individual protagonist, so hopefully they'll only be talking about an Arsenal victory as a team on Sunday evening.