Sunday too important to get sidetracked by van Persie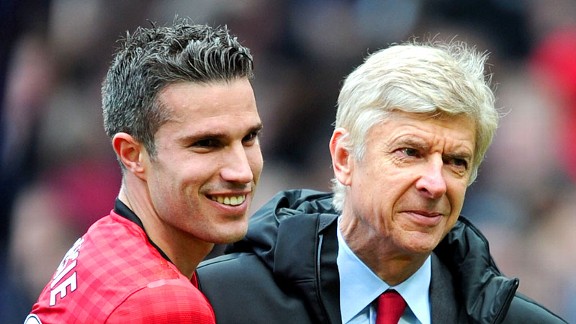 David Price/Getty ImagesRobin van Persie got a warm greeting from Arsene Wenger last November, when van Persie scored in the third minute in United's 2-1 win over Arsenal at Old Trafford.
Sunday's visit of Manchester United sets up Robin van Persie's return to the Emirates. It would be very easy for him to dominate this particular article.

For example, I could do a list of five things I'd rather do than ever see van Persie again:

1. Get kicked in the face by a horse
2. Become pregnant by Kanye West
3. Force-feed my arm to an alligator
4. Listen to 'In The Air Tonight' by Phil Collins 500 times in a row
5. Headbutt a nail into a concrete wall. With my eye.

However, that would be falling into the trap of Sunday becoming entirely about the Dutchman. And although there's little doubt the reception will be hostile, enough has been said about him all season long. Arsenal fans don't need to be reminded he is a very good footballer and the wheres and whyfors of his move last summer have been done to death.

-Monreal: Can't focus on RVP

The reality is that the van Persie pantomime overshadows what is a game of critical importance for Arsene Wenger's men. United arrive champions but Arsenal shouldn't expect to see a hung-over, sated team who will let standards slip just because they have won the league.

Alex Ferguson doesn't operate like that, and the talk in Manchester is of breaking the points record for a single season held by Jose Mourinho's Chelsea (95, set in the 2004-05). They must win their last four games to do it, so there's no chance of them slacking off just because they clinched the title on Monday against Aston Villa.

Arsenal's form has been excellent and, as we've discussed in recent weeks, they've learned how to grind out results when performances haven't been up to scratch. The wins against Norwich and Fulham were far from convincing, under very different circumstances, and with the manager forced into at least one change -- having to find someone to replace the suspended Olivier Giroud -- it wouldn't be a surprise to see him tweak his team to try and improve the level of the overall display.

The formation is unlikely to change -- it's remained consistent most of the season -- so personnel is the way to do it. Lack of strength in depth has been a real weakness for the Gunners this season, and it's highlighted by the discussion over who will replace Giroud.

There's no obvious solution -- at a club like Arsenal that's quite a realisation -- and the solution to that ought to be top priority this summer.

I suspect Theo Walcott will get the nod. Lukas Podolski's lack of fitness and the erratic nature of Gervinho tip the balance in the way of the England man, but it wouldn't surprise me if Alex Oxlade-Chamberlain were given a start on the right-hand side. He's one of the only players at Arsenal who will run directly at an opponent, to try and beat them with skill and pace, something they were crying out for against Fulham last weekend.

Oxlade-Chamberlain been used with much more regularity recently -- his goal for England in their San Marino whitewash seems to have injected a bit of like back into him after enduring some difficult times this campaign. After bursting onto the scene last year, he appeared to be suffering from second-season syndrome (very similar to second-album syndrome when a band/artist makes an incredible debut then finds it hard to follow up).

He's now beginning to prove he's no Terence Trent D'Arby, and the idea of him taking on Patrice Evra is an interesting one. He turned the game against Norwich simply by changing Arsenal's dynamic. The flat passing became fast-forward motion and it would be interesting to see what kind of problems he could cause the United defence.

If it doesn't work, Wenger always has Gervinho to throw on to cause confusion (to everyone), but he might just throw a coin down his wishing well and give the Ox a run.