Fronting up to the striker shortage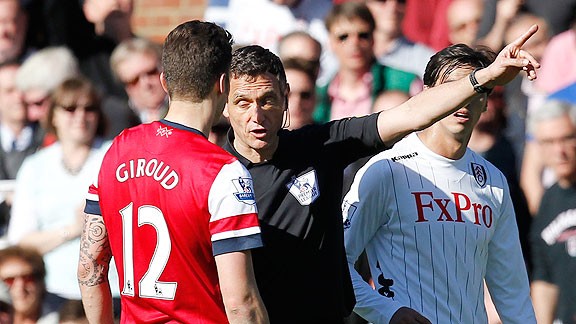 Ian KingtonAFP/Getty ImagesOlivier Giroud's absence due to his red card last Saturday against Fulham leaves a hole up front for Arsenal.
After the news that Olivier Giroud's red card appeal has been rejected by the Football Association, Arsene Wenger will definitely have to rethink his front line for Sunday's visit of Manchester United. Giroud's absence does raise questions as to why Arsenal's attacking options weren't reinforced in January as the Frenchman is the only regular central striker in the squad. It means that Theo Walcott, Lukas Podolski or Gervinho will have to fill Giroud's position.

- FA turns down Giroud appeal

Even though he has had the least amount of time in the middle this season, and hasn't started in the position since the first day of the season, there seems to be a lot of clamouring among supporters for Podolski to get his chance down the centre. His lack of starts recently was initially down to injury, but since returning he has been unable to break back into the starting XI. That's mainly been because of the form of others in front of him, but Podolski has looked dangerous when coming on in the last few weeks and his finish against Norwich City showed the quality in his left foot.

There are concerns about his ability to last 90 minutes in the Premier League, and if he was to start up front, there would be few options to replace him if he tired. While he might have to do a lot of work pressuring the centre backs, not having to track back to protect the left back should mean Podolski can last a full game against Manchester United.

Having started there when Manchester City came to the Emirates, Walcott can expect to have a strong claim to start up front against United. However, his form has nosedived. Even though he missed some games with injury, Walcott's last goal was against Liverpool on the 30th January. The confidence he was playing with earlier in the season seems to have gone out of his game. Being selected up front could bring a lot of it back, or it could see him being isolated and not offering an effective enough outlet when Arsenal need it against Manchester United.

Walcott is good when able to make spinning runs off the last defender, but his link up play needs a lot of work. This means that if the final pass to Walcott isn't right and isn't played early, attacks can break down quickly.

Finally, there's Gervinho. He's played in the main striking role more often than most Arsenal fans would have liked this season, and while there were signs of improvement against Swansea, Reading and West Brom, it would be a major surprise to see the Ivorian start in the lead role on Sunday.

Of the three, I'd like to see Podolski given the nod up front. So as Podolski can showcase his finishing more than he's been able to on the left, having Santi Cazorla in the attacking role behind him would be preferable, but that could mean Jack Wilshere missing out, as I suspect Wenger will be unwilling to break up the recent Mikel Arteta and Aaron Ramsey midfield axis. I'd like to see Walcott and Alex Oxlade-Chamberlain on the wings so Arsenal can stretch Manchester United and show more direct attacking intent than they did in the meagre defeat at Old Trafford earlier in the season.

Giroud hasn't been in great form recently, but he does offer Arsenal an outlet to hold the ball up and bring others into play. Even if he had been available and wasn't selected in the starting XI, he presents a different problem to defenders that not of Arsenal's other attackers can. Whoever Wenger chooses from the start on Sunday will have to be effective because the manager will have limited options to change the front line if things aren't going Arsenal's way.