Arsenal have added some grind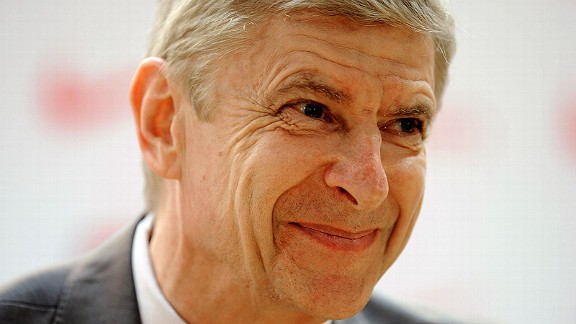 Stuart MacFarlane/Arsenal FC/Getty ImagesArsene Wenger's Arsenal have a new defensive shape and it has produced seven wins out of their last nine matches.
Being knocked out of a cup competition by lower league opposition once in a season can be considered an accident. When it happens twice, you have to think it's more than just coincidence.

When Arsenal lost at home to Blackburn it was a case of reality bites; and reality, as we know, has a more powerful chomp than even Luis Suarez. Since then, Arsenal's form has been better. A lot better. Despite a loss away at Spurs, they've won seven of their last nine Premier League games, climbed into third place in the table, and have been grinding out results in difficult circumstances.

- Wilshere to return against United
- Arsenal to appeal Giroud red

There may well be criticism for the performances, but the results speak for themselves, and what's interesting is that Arsenal aren't exactly renowned for their grinding qualities. The talk has always been of a team that played attractive football but had something of a soft centre. They could dominate opponents and lose from a set piece; they could zip the ball about the pitch and get caught on the counter; they could pepper the opposition with shots and lose to the first one they faced.

Other teams are widely praised for never giving up, scoring late and 'winning ugly', so it's odd that when Arsenal do it there's not more recognition for the qualities needed to do just that.

It's almost as if the defeat to Blackburn made the manager and the players take stock and reassess. There was, at times, a slightly hubristic approach to Arsenal's game, as if it were the right way to play and the only way to play: Fast, attacking football with defending something of an afterthought. If they score, we'll score more. Which is great when you can do that (see Arsenal 7-3 Newcastle), but not so much when you draw a blank (see Arsenal 0-2 Swansea or Norwich 1-0 Arsenal).

A more rigid, defensive approach might not have brought about wins in those games, but would have been enough to get Arsenal a point in each -- and how valuable would they be at this moment in time. Against Swansea, in particular, they lost the game trying to win it, caught on the counter-attack as Michu got both goals inside the last five minutes.

It's a lesson they might have learned earlier, but I think there's been a change in Arsenal's approach. While Arsene Wenger will always be a manager whose teams play attacking football, I think he's recognised that this group of players can't do it well enough to produce results on a consistent basis. There's been more emphasis on not conceding, on keeping defensive shape and discipline, and it's coincided with Arsenal's best run of form this season.

There's a realisation that they're not quite as good as they think they are, so the flaws and problems they have must be overcome in a different way. Rather than hoping to replicate the free-flowing attacking sides of yore, which were so effective when they were in their pomp, these Gunners are playing to something approaching their strengths, and it's paying off.

Nineteen points from the last 21 is good going for a team which hadn't managed more than three consecutive wins in all competitions before that. A manager who is roundly criticised for having no tactical awareness has changed the way his team plays and seen the benefits of it.

Manchester United come to visit on Sunday. Arsenal have yet to win against a top four team this season, this would be a good place to start.