Gunners held but it may prove a good point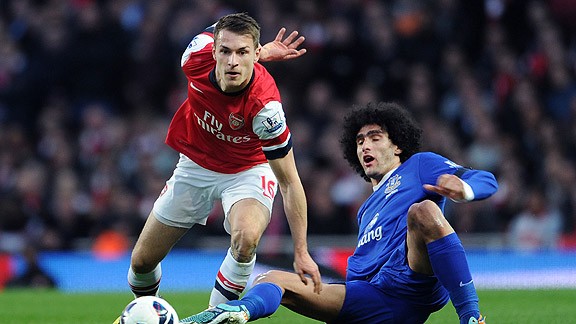 David Price/Arsenal FC/Getty ImagesMarouane Fellaini, right, and Everton did just enough to keep Aaron Ramsey and Arsenal from gaining all three points at the Emirates.
Arsenal will feel disappointed to have dropped two points in a 0-0 draw with Everton on Tuesday evening at the Emeriates, but in the end this may prove a decent point.

Everton were stubborn, resilient and defended extremely well all evening, showing the kind of commitment that snuffs out chances as the Gunners probed for a goal.

-Everton, Arsenal finish scoreless
-Brewin: Everton set to fall short again

Late in the second half, brilliant defending from Seamus Coleman denied Olivier Giroud a tap-in from close range, while the Frenchman was found wanting when he did find space in the first half. Aaron Ramsey's ball into him was excellent, but his finish on the slide was screwed wide.

When Giroud smashed a right-footed shot high and wide, admittedly from a tight angle, it was further evidence that Arsenal should invest in a striker this summer. With 17 goals, Giroud has had a relatively successful first season, and that goal return is decent by any standards, but the issue Arsene Wenger's team has is there's nobody else to call on.

When Giroud is off his game, there is no obvious alternative. Despite what the Arsenal manager said this week about using Lukas Podolski in a central role, he was deployed on the left hand side when he came on. It's hard not to wonder what a little more strength in this area might have meant this season.

Jack Wilshere was given another chance after his poor display against Norwich, Wenger obviously hoping the hour he played on Saturday would return some sharpness to his game. Unfortunately he was ineffectual and off the pace again, with Ramsey the standout performer in the Arsenal midfield.

It's understandable, as one of Arsenal's most talented players, that Wilshere called upon when they really need to win games, but it's clear his lack of fitness is an issue. Tomas Rosicky was on the bench, and might have been an option but clearly there's some concern over his hamstring -- although it wouldn't be a surprise to see him play on Saturday at Craven Cottage.

With Tottenham and Chelsea still to play each other, the points dropped Tuesday may not prove as costly as they feel in the immediate aftermath. However, it makes Fulham something of a must-win, and it has never been an easy away trip.

Seven points from nine in would be considered a good week, but there's no doubt there's pressure on having not won a home fixture. Credit should also go to an Everton side that played well and defended valiantly, but the Gunners need to get back to winning ways this weekend, with some interesting decisions for Wenger to make in terms of his team.