The big three, or not the big three?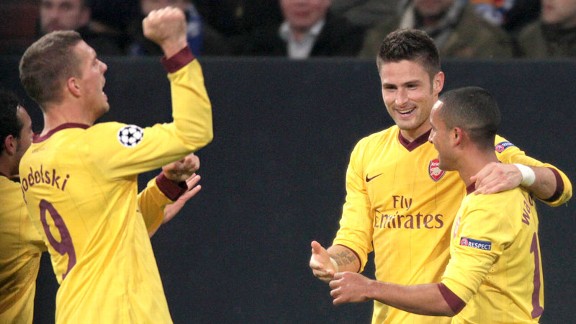 AP PhotoLukas Podolski, left, Olivier Giroud, center and Theo Walcott celebrate a goal against Schalke in November. The Arsenal trio has only started four games together this season.
Arsenal's top three scorers in all competitions this season are Theo Walcott (18 goals), Olivier Giroud (17) and Lukas Podolski (14).

Incredibly, the trio have only started four games together in all competitions. Walcott's early-season contract wrangling saw him demoted to the bench when the two new signings were settling into the team, and it wasn't until Nov. 6 that they all lined up from the start together for the first time (2-2 draw with Schalke).

-Vermaelen: Gunners must extend run

Since then, form, injury and Arsene Wenger's squad rotation has seen them start only three other times (5-2 win over Spurs, 5-1 win over West Ham and 2-2 home draw with Liverpool as both Giroud and Walcott scored).

Now, all three players are fit, and Arsenal are finding some momentum, so does Wenger go for broke by including his three top scorers against Everton Tuesday night? It's hard to make a real judgement on how well they play together, simply because of how rarely it's happened, but on paper it looks to be a strong trio.

Walcott, perhaps by accident rather than design, provided an assist for Podolski as Arsenal secured a late three points against Norwich at the weekend, while there have been signs throughout the season that the German and Giroud were building a good understanding.

The Frenchman created a great chance for Podolski on Saturday, and the former Cologne man has provided a number of assists for Giroud.

Injury, and periodic loss of form, has hampered that relationship, but if they can pick up where they left off for the final six games it could well prove very important for Wenger's team.

Interestingly, the Arsenal manager spoke about Podolski after the Norwich game, and hinted at using him in a more central role:

"I think he can play as a central striker as well. I work a lot with him as a central striker at the moment. He is a quality player and when he comes on you can see that straight away."

His deployment on the left-hand side of an attacking threesome has seen him substituted more than any other player in the Premier League this season. There is also some defensive discipline required in that role, which has probably been a factor in how often he's been replaced, but at the moment Giroud is the main striker, with Wenger seemingly preferring his play in and around the box.

Perhaps another reason why he might be reluctant to start all three is it's a bit like putting all his goalscoring eggs in one basket. Having a Podolski or a Walcott on the bench certainly brings about more threat than the likes of Gervinho (not exactly prolific despite some improved recent form) or Alex Oxlade-Chamberlain (just two goals all season). As we saw against Norwich, the introduction of Walcott and Podolski (as well as Oxlade-Chamberlain) changed the dynamic of the game and in the end brought about the three points.

Yet there's also a case to be made for starting with players who have 49 goals between them. They each offer a different kind of threat, and while it's nice sometimes to have something in reserve, having three players who can cause real problems for the opposition can positively influence the team.

Ultimately, it's one of those nice problems for a manager to have. Trying to fit all your good players into the side is far better than scratching around in a desperate attempt to cope with their absence. I suspect that it's more likely to happen at home than away, it'll be interesting to see if Wenger goes for it Tuesday against Everton.