Arshavin's Arsenal self-destruction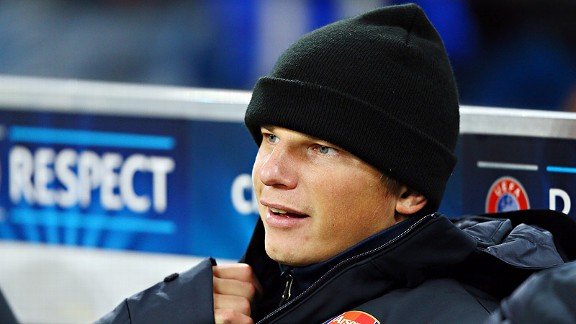 Christof Koepsel/Getty ImagesArshavin may consider retirement at the end of the season.
Andrei Arshavin arrived at Arsenal in 2009 a genuine star. He stood out at Euro 2008 as Russia reached the semi-finals, and was a key part of the Zenit St Petersburg side that won the UEFA Cup.

On a fittingly snowy transfer deadline day the Russian chartered his own plane to be in London and the deal with Arsenal was done so late that it required ratification the day afterwards. His first words to the Arsenal fans were "I am Goonar" and he burst onto the English scene with an incredible solo performance at Anfield, scoring all four Arsenal goals in a 4-4 draw which, essentially, scuppered Liverpool's chances of winning the Premier League.

- Arshavin considering retirement - report

It wouldn't be unfair to suggest that night in April was the high point of his Arsenal career. Since then the trajectory of his career moved inexorably downwards, culminating in reports this week that he's thinking of retiring when his contract expires in June.

I doubt that, to be honest. He's still just 32 and probably has enough salvageable reputation to get himself a decent contract for a few years, but there's no doubt his time at Arsenal has been a huge disappointment. Forget those who say he was hampered by being played out of position.

If he didn't have a team set up to do his donkey work for him, that's the harsh reality of playing in one Europe's best leagues. If his mercurial ways could be accommodated at Zenit, they couldn't at Arsenal. Nor should they have been or would they have been at any top club. Perhaps the free role behind the striker is the one that suits him best, but at Arsenal he had to compete with Cesc Fabregas for that position and the Catalan was a better, more consistent and harder working player.

All the same, despite a small spell as a lone striker when Arsenal suffered an injury crisis that saw Robin van Persie, Eduardo and Nicklas Bendtner all sidelined at the same time, he was deployed in a wide position which allowed him creative freedom but also required some defensive discipline. If the position didn't suit him, that was his problem, and it's worth remembering that Arsene Wenger's sides are set-up to play an attacking game. He wasn't a wing-back or anything like it.

Arshavin's fitness was always an issue. He arrived overweight and out of shape, and never looked like a player fit enough for the Premier League. Instead of working on that, he coped by taking breathers during games. It wasn't unusual to see him out of breath and strolling when he ought to have been doing more.

Last season Arsene Wenger ruthlessly packed him off to Zenit on loan when his team was in a serious fight for the top four. He deemed the Russian surplus to requirements and was proved right when the Gunners finished third. This season he has started just two games, both in the Capital One Cup, and last appeared in a sad cameo as Arsenal were beaten at Stamford Bridge.

There was no sign of the player whose skill and talent could create a chance or a goal from nothing. No sign of the man who excited at thrilled at the start of his time in red and white. No sign of a footballer who had any desire for the game.

Make no mistake, Arshavin had ability that other players would dream of, but in the end his talent wasn't enough. Without sufficient application and effort, he frustrated team-mates and his manager. At a reserve game against Norwich he asked, quite seriously, if the warm-up was going to be overly strenuous ... then went out and scored two goals.

He is a likeable character, but as a footballer he left a lot to be desired. He'll leave Arsenal richer but with his star almost snuffed out.