Arsenal squad finds some depth at last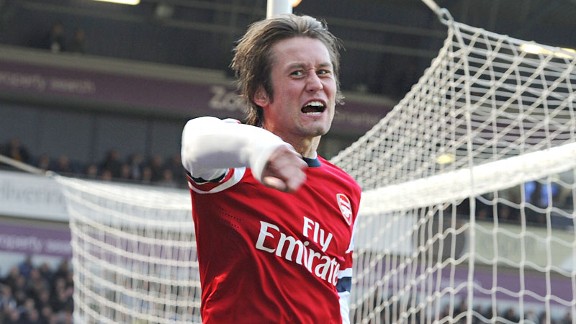 Stuart MacFarlane/Arsenal FC via Getty ImagesCount Tomas Rosicky as one of the Arsenal players who has found his form at the right time.
Three months ago the idea of Gervinho replacing Theo Walcott was so far-fetched you'd have been laughed out of town for suggesting it.

There was a very good reason for that, obviously; Walcott was the club's highest scorer and enjoying an excellent run of form which brought about a conclusion to his long-running contract saga. The Ivorian, meanwhile, was missing from three yards against Bradford in the Capital One Cup and was a player bereft of both form and confidence.

- Rosicky: Derby defeat was turning point

Fast forward to now and it doesn't seem as ludicrous a proposition. If Walcott was fit for this weekend's game against Norwich, would you pick him? Since signing his new deal, his goal-scoring and assist-making have dropped off. He's scored just three Premier League goals, the last of which came on January 31st against Liverpool.

In the interim, Gervinho went to the African Cup of Nations, scored a couple of goals, restored some confidence, and has played a crucial part in Arsenal's last two wins. Two goals and an assist helped in the win against Reading, and he provided the pass for Tomas Rosicky to head home Arsenal's first against West Brom.

There's no doubt the injury suffered by Walcott while on international duty opened the door for Gervinho, but the former Lille man isn't being polite and holding it ajar until his teammate returns. He's taken his chance and Walcott may have to wait to get his place back. Why change a winning formula? How can you 'punish' a player who has played well, scored and assisted, by dropping him because of some vague notion of seniority?

The same applies to Jack Wilshere. His last game was the 2-1 away defeat to Tottenham, since then Arsenal have won four games in a row. Rosicky has found some form and his shooting boots along the way, Aaron Ramsey has added consistency (if not finishing) to his game, and it makes it very hard for the manager to change a winning formula.

Other players have 'suffered' too. Wojciech Szczesny kept up some match fitness with a run out for the U21s against Liverpool this week, but Lukasz Fabianski has played well enough to keep his place. Thomas Vermaelen will only return to the side because Per Mertesacker is suspended after his red card last weekend.

Even a fit again Lukas Podolski, a man with over 100 caps for Germany and somebody who was an assured starter for Cologne, is discovering that circumstance can leave a player sidelined. Injury cost him his place, but with Santi Cazorla ostensibly filling that left-sided position (in reality he's allowed much more freedom), and the midfield finding balance with Rosicky, Aaron Ramsey and Mikel Arteta, he's going to have to wait for his chance.

There's no question a lack of depth has been costly for Arsenal this season. When the manager had to make changes, the players brought in weren't as effective as they needed to be. The squad needs to be overhauled in the summer, with more focus on signing players of the calibre of Cazorla than some of the slapdash purchases we've seen of late.

But with just seven games to go this season, it's a positive for Arsenal that players like Wilshere, Walcott and Podolski know that when their chance comes, be it through injury, suspension or manager's choice, they've got to perform well to keep their place.