Arsenal silence speaks volumes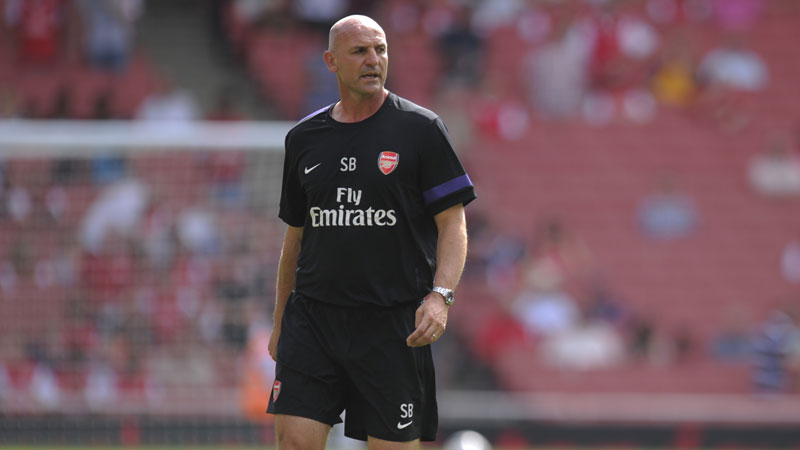 PA PhotosAssistant Steve Bould has been speaking for the boss, Arsene Wenger
By this point on a Friday, before the weekend's Premier League football, Arsenal fans have usually got their regular dose of Arsene Wenger. It's always a reassuring sign that an Arsenal match is imminent when there are plenty of Wenger quotes to pore over and dissect. However, the Arsenal boss has lost his voice.

- Bould: Bayern win gave us confidence

Instead of Wenger's dulcet tones and footballistic turn of phrases, Arsenal fans have got just a few snippets from assistant Steve Bould to go through in the build-up to Saturday's trip to West Bromwich Albion. Whilst it might be strange not hearing from the manager during the week, his silence could be seen as indicative of how Arsenal are going about their work at the moment. At different times this season, there have been moments that have been made to feel like the club are experiencing turmoil and were doomed for failure.

The team might still fail in making it back into the Champions League for next season; however the cries of crisis have been quietened in recent weeks. Arsenal have managed to get themselves out of the media glare by starting to win matches again. When things aren't going well, they're an easy target for stories and reports on the failings of the team and the club because the structure and running of it appears abnormal in modern football. The only way the doom and gloom rumblings were going to stop would be if Arsenal smoothly dropped back into the groove regularly picking up points.

With other clubs and characters making plenty of headlines, Arsenal have been able to quietly make good progress after the win at Bayern Munich. Even their rivals for the Champions League places have been more subject to the media spotlight since Arsenal's exit from Europe. Whether it's Rafa Benitez, Frank Lampard, John Terry or Fernando Torres, there always seems to be something going on at Chelsea, whilst Gareth Bale has taken up plenty of newspaper and online column inches with his performances this season. He's at the focus of things again for Spurs after his injury on Thursday night.

Players like Gervinho, Lukasz Fabianski and Aaron Ramsey, who regularly spark negative noises from fans and the media, have started playing well and the team are showing signs of progression. However, after the quiet progress of recent weeks, it's approaching the time where there could be some considerable noise about the Gunners once again.

It starts against West Bromwich Albion on Saturday. Due to their Europa League involvement, Spurs and Chelsea are playing on Sunday, so an Arsenal win at the Hawthorns would, if only briefly, move them into the top four. With Spurs facing a tough game against Everton and Chelsea facing the real headline makers of the week in Sunderland, there can be hope amongst Arsenal fans that the team could remain in the Champions League spots after the weekend. Should Arsenal fail to make that break on Sunday, the negative noises could return as the Champions League hopes could then fall away should Tottenham and Chelsea take advantage of an Arsenal slip-up.

West Bromwich Albion certainly won't be a push over. It took some interesting goalkeeping from Marton Fulop to help Arsenal win at the Hawthorns last season to get into the top four, and it was only two Mikel Arteta penalties that secured three points for Arsenal at the Emirates earlier in this campaign. Even if the win is as similarly unconvincing as previous victories over the Baggies, three points would be another quiet step in the right direction to giving Wenger something to shout about.