Have Arsenal found confidence at the right time?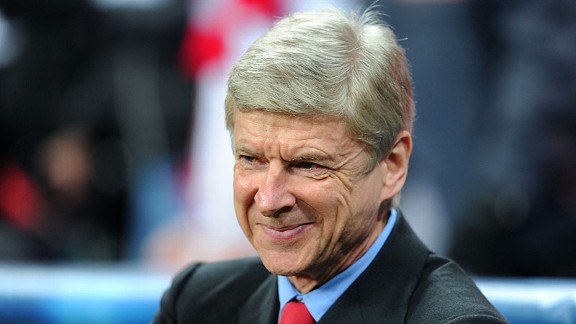 David Price/Getty ImagesAn Arsenal side playing with confidence has given Arsene Wenger plenty of reasons to smile.
The difference between the Arsenal side that beat Reading 4-1 last Saturday and the one that struggled through the previous weeks -- particularly in the horrible game against Blackburn in the FA Cup -- is vast.

Not in terms of personnel, even though a few changes have been made; not really in terms of style of play, because Arsenal's way is quite defined; but in terms of confidence. They look like a side that has rediscovered something.

- Wilshere could return in a week

Arsene Wenger often says that confidence is the easiest thing to lose in football and the most difficult to win back. Even the great Invincibles, having been robbed of a 50th game unbeaten at Old Trafford by an appalling refereeing display, took a huge hit.

Of their next five games they drew three against teams they would have expected to swat aside during that incredible run (Southampton, Crystal Palace and West Brom), beat Spurs 5-4 and then lost to Liverpool. They had gone 49 games without losing, and played incredible football along the way, but one defeat had them staggering, punch drunk in a football sense.

There's no doubt that the current Arsenal side found themselves similarly bereft of confidence in recent weeks, albeit not one deposed from a position of great power like the 49ers. The home defeats to Bayern and Blackburn were extremely damaging as all hope of silverware went begging, and the loss to Spurs in the Premier League led many to write premature obituaries about Arsenal's season.

Yet with eight games to play, and lots of points still to grab, they've bounced back more quickly than many would have predicted. Confidence was boosted by the wins in Munich and Swansea, and the international break didn't provide the disruption some feared. Instead, Arsenal took that same attitude and belief into the Reading game, and although the opposition were poor and didn't play well, much of that was down to how well the Gunners controlled the game.

If you look at this video which shows some of the passing and movement throughout the game, you'll see a team that is assured and comfortable, as well as one that has that little something extra. Players who just know where a teammate will be, how to play a particular pass, the weight and timing of it, and that Reading had no answer. The build-up to Santi Cazorla's goal is fantastically controlled and looks incredibly simple, but it's the kind of football that can only be played by a confident team.

At times Arsenal have struggled this season, even against inferior opposition, so it was good to see them play with such freedom last weekend. It's still too early to say that they've have turned a corner; they're just as likely to come around it and walk straight into a lamp post, but if they can carry this confidence through the final games of the season, then most opponents will find it too hard to deal with.