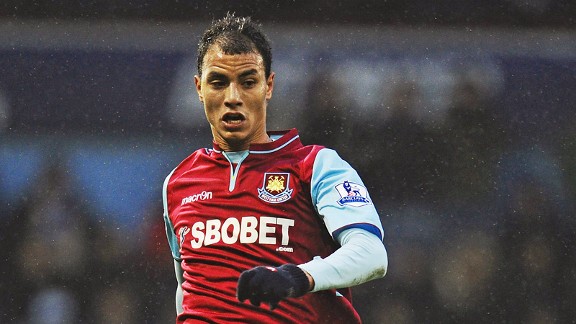 Mike Hewitt/Getty ImagesSince moving to West Ham on loan, Marouane Chamakh has appeared in only three matches.
With the news that Sao Paulo have decided against taking Denilson on a permanent basis, I thought it might be worth having a look at the Arsenal players out on loan and what the future might hold for them.

- Giroud: Gunners aiming for top three

Denilson: He's done quite well in his second spell at the club he joined Arsenal from in 2006. After a flurry of early sendings- off, he contributed to a Copa Sudamerica win in 2012 and scored a few goals along the way.

However, recent events (including telling a fan on Twitter where to go in the most basic way possible) mean he'll return to Arsenal this summer with a contract that runs until 2014.

Chances of an Arsenal future: Not impossible, but unlikely. With only a year left on his current deal, the Gunners will be willing to accept a fairly low fee to move him on. Spain a decent possibility, he almost joined Villarreal before going back to Brazil.

Marouane Chamakh: Although Arsenal had just one recognised striker (Olivier Giroud), Chamakh was sent to West Ham in January. He's played just three times for the Hammers and scored a grand total of zero goals. With Arsenal fans expecting the striking options at the club to be upgraded this summer, that pretty much rules the Moroccan out.

Chances of an Arsenal future: About as realistic as my chances of marrying Alison Brie (leaving aside my wife's objections to this in the first place).

Park Chu-Young: Bizarrely brought from Monaco in August 2011, he spent most of the season on the bench, playing a grand total of 11 minutes of Premier League football. He's at Celta Vigo now and has scored three times in 19 appearances, not really enough to win over the fans there, and definitely not a sign that he's ready for Premier League football (although I'd happily see him sign for Spurs).

Chances of an Arsenal future: Two chances, and slim just left town.

Johan Djourou: The Swiss centre-half fell way down the pecking order at the Emirates after a disastrous spell of form last season, culminating in a halftime substitution for whippersnapper Nico Yennaris. He played just twice for Arsenal this campaign, before joining Hannover 96 where he's made 12 appearances.

He spoke about wanting to say at the Bundesliga club, and no wonder. It's funny how he went from being a defender that Arsenal seemingly couldn't do without to one so easily dispensed, but such is football.

Chances of an Arsenal future: Could depend on what Arsene Wenger does this summer and whether Thomas Vermaelen reacts to his demotion by seeking to leave as rumours would have you believe. Most likely he'll be sold.

Andre Santos: Wenger declared Santos 'still important' to the squad on Feb 1st; 10 days later he'd been packed off to Gremio on loan. You do wonder what might have been had he not turned an ankle in a Champions League game he probably shouldn't have been playing in last season, thus missing four months when he could have established himself completely in the team.

In reality, he was nowhere near as bad a player as some would suggest, but ultimately not suited for English football.

Chances of an Arsenal future: With Nacho Monreal and Kieran Gibbs now battling for the position, it's all over for football's biggest Instagram fan.

Emmanuel Frimpong: Having suffered two ill-timed cruciate knee injuries, it makes sense for him to go on loan to simply play football. Arsenal wasn't the place, the competition in midfield was too fierce for him to play, so although reports say he's already been deemed surplus to requirements, there may still be the possibility if he plays well enough for Fulham.

Only three appearances since the January move, however, might suggest it's a remote one.

Chances of an Arsenal future: Like Greece winning the European Championships, it can be done but you wouldn't put any money on it.

Nicklas Bendtner: How The Greatest Striker That Ever Lived has found his career in the doldrums is beyond me. Oh, wait, it's not. Ideas above his station, insisting on joining a big club like Juventus when he should be setting his sights lower, a bad injury and a drunk-driving conviction mean he's frittered away another season.

There's no chance whatsoever that Juve will take him permanently, and even his national coach said recently he needs to simply find a club where he can play regularly. He might believe he's good enough for the biggest and the best, but he's yet to prove it.

Chances of an Arsenal future: Hahahahaha ... hahaha ... oh dear ...

Joel Campbell: The Costa Rican youngster is at Real Betis and although he's got more yellow cards (six) than goals (two), there's an acceptance that this is very much a learning curve for him. He's playing quite regularly, starting 17 of the 21 appearances he's made in La Liga, and while next season might be too soon, he seems to be developing well.

Chances of an Arsenal future: Betis have already said they'd like him for another year, and talks with Arsenal were imminent according to local media last month. It would seem to be a good option, allowing the Gunners to monitor his progress for another season before making a decision.

Ryo Miyacihi: His season has been cut short by injury, sadly picked up after another lengthy injury absence. He just hasn't played enough this year to show Wenger he's ready for Arsenal just yet.

Chances of an Arsenal future: Needs another loan spell, at least.

Wellington Silva: Hyped to the max, he's had a series of loans spells in the nether regions of Spanish football. Overly fond of pizza, according to one manager, he's now at Ponferradina in the Spanish Segunda. He's played 15 times and scored one goal. Not even close to being enough to suggest he's ready for the step-up to Premier League football.

Chances of an Arsenal future: Will get the boot.

Sorry.

---

Comments and discussion welcome as always.