Gervinho shines as Gunners stick four past Reading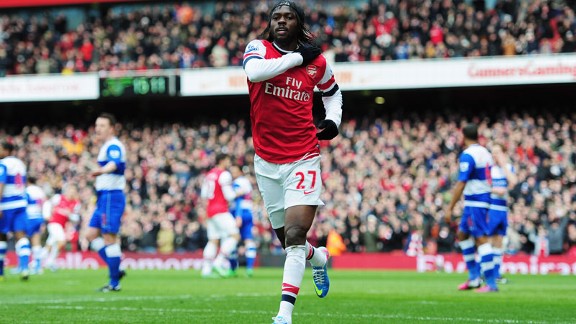 GettyImagesGervinho opened the scoring for Arsenal against Reading.
It would be fair to say that Gervinho has been hit and miss for Arsenal this season, but in their 4-1 win over Reading he had a decisive impact.

The Ivorian scored the opening goal in the 11th minute, prodding home Santi Cazorla's slightly mishit shot, and he set up Arsenal's next two. Simple passes to Cazorla and Olivier Giroud -- Gervinho's run and patience for the ball for the Frenchman is worthy of note -- were well finished by the scorers. He left the field, replaced by Alex Oxlade-Chamberlain, to an ovation he's not entirely used to.

- Keen: Painful watching as Royals outdone
- Brewin: Arsenal show Adkins size of task ahead

Gervinho is, all the same, a confusing kind of player. His running Saturday was fantastic. He found space, and he was direct and dangerous. At one point in the first half, he took the ball midway inside Arsenal's half, sprinted with it almost to the edge of the Reading box and made poor contact when he took a shot on goal.

In the second, he made a lovely run down the inside left channel. Cazorla picked him out, Gervinho took it on into the box, and again the final ball was weak, falling easily for a Reading defender to clear. Sometimes it looks as if it's the first time he's ever tried to kick a football, but a goal and two assists is man of the match territory.

He's never going to be the greatest player in the world, the flaws in his game are too obvious and surface far too often, but he showed at Emirates Stadium that he can add something to the Arsenal squad. His goal tally for the season is seven, which is pretty decent, and although his unpredictability often confuses himself as much as defenders, he can cause problems on his day.

However, as good as the scoreline looks and as well as Arsenal and Gervinho played, the game has to be looked at in the context of Reading's performance. They looked a beaten team from the start of the game, there was no bump in performance under new manager Nigel Adkins, and Arsenal could easily have scored more goals.

The Royals look destined to go down. Nothing we saw Saturday suggests they have a realistic chance of getting enough points to avoid the drop, and in the end, Arsenal toyed with them.

Some of the passing and movement from the Gunners was sensational. Cazorla was nearly always involved, as you'd expect, but Tomas Rosicky and Aaron Ramsey also contributed well. With Mikel Arteta anchoring the midfield (completing 99 of 107 passes) and Reading simply unable to cope with the movement, those three made 220 of Arsenal's 590 successful passes. It meant that Arsenal could dominate the game. The visitors were never allowed enough time to get any kind of grip on the game, and the relentlessness wore them down. Even when they did have ball, they were hunted until Arsenal got it back.

This result makes it five wins from the last six Premier League games, and although Spurs beat Swansea, Chelsea going down to Southampton means the gap to the top four is now just two points. Everybody talks about how Arsenal will have to finish above their north London rivals to earn Champions League football, with people seemingly forgetting that Chelsea finished last season in sixth. Perhaps they're the ones that should be most worried.

Overall, a good day for the Gunners -- positives all round from the collective performance, and some individuals will take a nice boost from it too.