Internationals over, real football returns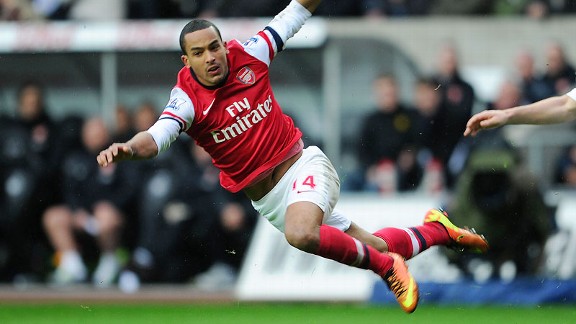 David Price/Arsenal FC/Getty ImagesTheo Walcott's recovery from a groin injury is a real issue at Arsenal, as opposed to the uninformed conjecture passed off as news during the international break.
The tedium of the international break is finally over. Those who have a keen, or even passing, interest in the fortunes of their national team have at least had some football to keep them going.

For the rest, myself included, this has been an interminably long break, with slim pickings in terms of news. Spurious transfer stories were about all that was on offer, and even in the summer, when there is at least movement and interest from clubs, most of them are outright nonsense.

In March, with a crucial part of the season still to go, there isn't a manager showing his hand in any way; whether a certain player is coming in or going out.

We saw Arsenal linked with Stevan Jovetic, but this was a consequence of the internationals, not genuine transfer information. England were playing Montenegro, Jovetic was asked about Arsenal and, like any sensible player, was complimentary about a potential suitor – ruling nothing in or out.

This translated to a raft of stories about how he was 'open' to a move to the Emirates. The simple fact is, though, had he been asked about a dozen other clubs, he would have given the same answer and the same stories could be applied to them. This then sparked a comment from his Fiorentina teammate, Luca Toni, about how he should eschew Arsenal in favour of a 'big' club.

And not one word of this has come from any well-placed source, or from somebody with inside information. A journalist asked a question and the whole thing was built on that. That's how papers get sold and websites get clicked, but nobody should be under any illusions that it means anything.

Arsenal may well have an interest in him. We might find out to what extent in the summer, or we might not as Arsene Wenger keeps his cards very close to his chest at all times. But nobody should be putting all their eggs in the Jovetic basket because of this week's stories.

The international break was also exacerbated by the fact that it came at exactly the wrong time for the Gunners. Although two wins is hardly a sign a corner has been turned, it's difficult enough to build momentum with a team that has been as flaky as Arsenal, so the confidence boost of beating Bayern and Swansea won't have as much impact as it might have.

Thankfully it looks as if nobody, bar Theo Walcott, has picked up injury while away, which should leave Arsenal in good shape for the final nine league games. The next three, two at home to Reading and Norwich, with a trip to West Brom in the middle, provide an excellent chance to rack up the points needed to put the pressure on Spurs and Chelsea.

Wenger will be hoping that his team can pick up where they left off, that the break has recharged their batteries, not flattened them.