NextGen provides youngsters with a chance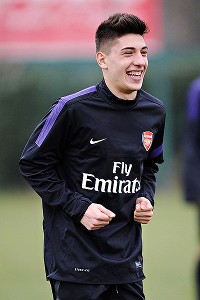 David Price/Getty ImagesHector Bellerin has a golden opportunity to show Arsene Wenger he can help Arsenal at right back.
On Monday night, Arsenal's youngsters, playing in the NextGen tournament, get a chance to showcase their skills against CSKA Moscow.

Having beaten reigning champions Inter Milan 1-0 in the previous round, the reward was a home tie and the chance to play at the Emirates. With the club selling tickets for just four pounds for adults and two pounds for U16s, there should be a decent crowd to see some of the faces of the future.

Mikel Arteta spoke this week about the invaluable experience of playing at the stadium in front of a large crowd, and about how some of the players involved had big futures ahead of them at Arsenal.

"We've got some good players coming up," he said. "I don't want to say any names because you underestimate the others, maybe. In my head, there are three or four players that will become very important players for this club."

Although none of the players taking on CSKA Moscow are likely to be used during Arsenal's final nine games (not unless there's a crippling injury epidemic, anyway), this game, and hopefully the ones to come, might influence the manager's thinking when it comes to his summer transfer activity.

We know that Arsenal is a club which likes to give youth a chance. Maybe not as much as it used to, but if the quality is there then Arsene Wenger still isn't averse to looking for what he calls "internal solutions".

Take right-back Hector Bellerin. There were rumours that he was going to play against Blackburn in the FA Cup. In the end, Francis Coquelin got the nod, but the Spanish youngster is making quick progress. A winning goal against Manchester United last week in an U21 game saw him catch the eye again, and with Arsenal's right-back future nowhere near as settled as it might be, he has the opportunity to give Wenger something to think about.

It does look as if Bacary Sagna will leave the club this summer. The stories about lack of contract talks and unhappiness with what is on offer are the typical precursors to a player moving on. Leaving the rights and wrongs to one side, it means there may well be a chance for Bellerin to move into the role of understudy.

Carl Jenkinson has made significant strides since he joined the club from Charlton the summer before last, and should Sagna go, he's probably done enough to suggest he could become first choice. But we know no player can play every game in a season, and if Sagna departs then there's certainly a lack of depth in the position.

Bellerin's job, against CSKA and for the rest of the U21 season, is to show Wenger he's ready to step in and fill that gap. If he performs well, especially when there's pressure on, he's more likely to be involved with the first team next season. If he struggles, then perhaps a loan move may be required to give him more experience, and maybe Arsenal will have to dip into the transfer market to get some right back cover.

That provides another obstacle to overcome in the battle for first-team football, but these are the moments that can define a young footballer's career. The former Barcelona youngster has plenty to offer going forward, but like any young defender has a lot to learn at the back. Wenger has to decide if he's got enough potential for Arsenal to be the place to do that learning.

The harsh reality is that few of the players taking part in the NextGen series will make it at the Emirates. Although we hear more and more about the youngsters, the attrition rate is still remarkably high. Look at the team that won the FA Youth Cup in 2009. Only Coquelin and Wilshere remain, and the England international is the only regular.

'Big' names such as Jay Emmanuel-Thomas and Henri Lansbury moved on without making the impact many expected; both have had to drop down a level to play regular football. Emmanuel Frimpong seems surplus to requirements, while the likes of Eastmond, Watt, Cruise, Henderson and Ayling never came close to the first team.

So while our knowledge of these kids increases, our expectations shouldn't be skewed by that. Bellerin has got a chance, like a few others, but nobody should be under any illusions about how big a task it is.