Re-affirming their commitment to Arsenal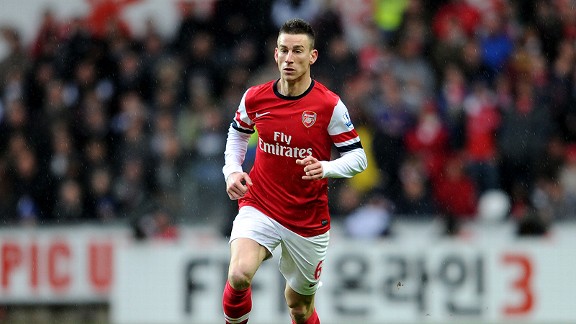 David Price/Getty ImagesLaurent Koscielny took time this week to dispel any notion that he was leaving the Emirates this summer.
Arsenal news stories can often be few and far between during the build-up to an international weekend, especially when there's no fallout from the previous Premier League game. Even by those standards, this week has been particularly quiet.

The majority of news has been away from the first team, with the Arsenal Ladies winning their midweek Champions League match and the Arsenal U21's beating Manchester United 2-1 before their NextGen Series match with CSKA Moscow at the Emirates on Monday.

Any stories about the first team have generally been centred on players wanting to stay at the club, and after an up-and-down season, that is reassuring. It can also be seen as an example of the improved feeling around the club in the last two matches since the North London derby defeat. The wins at the Allianz Arena and the Liberty Stadium haven't solved all of Arsenal's problems, but they have given the squad a much needed boost for the rest of the season. As a result, they have been quick and willing to disregard any speculation about their future.

The first to do so was Laurent Koscielny. Even though he's not been in the team regularly this season, when on form, he can be an extremely valuable asset to Arsenal. His performances in the past two games have shown that. The speculation surrounding his future was hardly intense, however Koscielny squashed it. "If every time I play less I change clubs, it would be ridiculous. I'm happy in London, my family too. I'm not thinking about that." He doesn't need to be told that he's not been in the best form this season, so it's good to know that he's only focused on recuperting it at Arsenal.

Koscielny was then joined by fellow centre-back Per Mertesacker in dispelling press rumours about their future at the club. After over a year and a half at the club, the big German still divides opinion among supporters. It's fairly obvious that he has some limitations with regards to his pace, but rarely will you see an opposing player completely speed away from him because Mertesacker knows to play within his limitations and adapt his game accordingly. On his future, he said" "I have another two years left on my contract, really like it there and want to continue to help the club. I have no plans to return to Germany."

Finally, there was the strangest commitment to the club, as Wojciech Szczesny apologised for his father's comments about Arsenal and Arsene Wenger. No one should see a slight family dispute played out in the media, however the fact Szczesny felt compelled to rebuff his father's comments does show how important the club is in his life: "I'd like to make it clear that those were the views and opinions of my father and not mine, and although I respect his views I cannot accept them as I find them disrespectful to the club I truly love." It's easy to forget how young he is, especially as a goalkeeper. One bad spell of form isn't going to stop the Pole from wanting to be at the club. Having come through the youth system, he appears to have a strong bond to the club that will be tough to break.

At the start of an international break, it's sometimes nice to have a break from the emotional rigours of club football. Although, that quickly turns to footballistic boredom and pining for Arsenal to be back. It is good however to have players reaffirming their commitment to the club, especially after a challenging season. They look refreshed from Arsenal's last two performances, so hopefully that more positive vibe at the club isn't lost in the international break.