When is an Arsenal player not an 'Arsenal' player?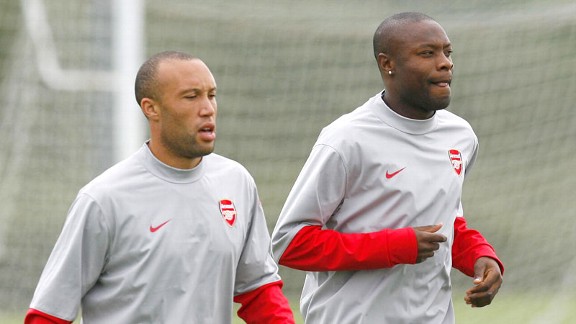 Ian Kington/Getty ImagesMikael Silvestre, left, and William Gallas were never accepted as true 'Arsenal' men.
On the face of it it's an easy definition -- an Arsenal player is somebody who plays for Arsenal. They wear the shirt, they have a number, they kick the ball, they get paid, they're an Arsenal player.

But sometimes it doesn't feel like it. It doesn't feel as if they belong. It may have little to do with their talent or ability as a player -- that's not the maker. Often a player's history means that although he is by definition an Arsenal player, he's not an 'Arsenal' player.

Confused? We all are; it's the state of this modern world we live in. All those WiFi rays and Bluetooth bits -- but I'll give you an example. In 2008 Arsenal signed Mikael Silvestre from Manchester United. He had been part of the great rivalry when the clubs, literally at times, battled it out for the Premier League season after season.

If that wasn't enough, he once got sent off for headbutting Freddie Ljungberg at Highbury. You can't do that and then expect people to forget. At the time Arsenal signed him, he was in discussions with a pre-investment Man City and Sunderland. His performances for the Gunners suggested that those clubs were more his level.

Early on, he did score against Spurs to briefly gain brownie points, but in the same game was part of an Arsenal defence which threw away a two-goal lead in injury time to let the old enemy equalise.

Those brownie points were removed at once. Sadly, they were not replaced with whatever the football equivalent of concrete shoes is and he was not -- metaphorically, you understand - thrown off a bridge into a river.

To me Silvestre was never an 'Arsenal' player. He just couldn't be. And while some of that had to do with the fact that if United were letting him go and willing to sell him to a supposed rival -- there was a very good reason for it -- there are others whose talent was far greater but still never became proper Arsenal players to me.

William Gallas, for example, was an excellent player, a centre-half of some distinction who could play left-back too (although he hated it). Again though, he had a history, and came to Arsenal from Chelsea as part of the contentious Ashley Cole deal. To be fair to him, he arrived when his best years weren't behind him and his performances were good enough that his rotten blue past was mostly forgotten.

But the truth will out. Arsene Wenger made him captain, jettisoning Gilberto into the process, and in the 2007-08 season Arsenal looked like they might be champions. Then Eduardo had his leg snapped, Gael Clichy gave away a late penalty and a traumatic Arsenal day was topped when Gallas sat down on the pitch in a huff.

Despite beating Milan, the next three Premier League games were drawn and the lead slipped. It's easy to captain a winning side, but the true measure of leadership ability is shown when the chips are down, and Gallas was found wanting.

I think it's fair to point out that Arsenal not winning the league that season is not down to Gallas. There were a series of events -- Eduardo's broken leg is the most obvious, but they also lost two other key players to injury. Mathieu Flamini, having a wonderful 'shop window' season, and Bacary Sagna both missed games toward the end, and they were contributory factors to late-season slippage.

But to me Gallas never felt like an 'Arsenal' player. Wenger stripped him of the captaincy mid-season and gave it Cesc Fabregas, and the Frenchman's decision to join Tottenham when his contract expired was proof positive he cared little about his Gunners past.

And that's not a criticism, per se; they're professionals, doing a job, and they can choose to play where they like. The same way fans can choose to judge them and view their contributions objectively, or with the red-and-white specs on.

Some guys just have it, others don't. One man's Gallas is another man's poison. And football goes on.