Left back in the changing rooms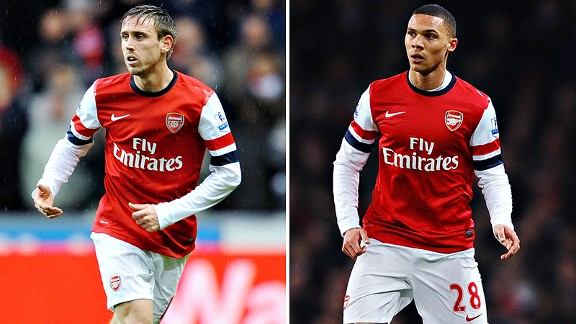 Getty ImagesNacho Monreal, left, and Kieran Gibbs, right, have each showed recently why they should be Arsenal's starting left back.
Excusing the cliched joke (club football fans have got to amuse themselves somehow with the start of an international break), the coming weeks could see an Arsenal left back disappointed to be left out of the team. When Kieran Gibbs was back on the treatment table, Nacho Monreal was almost assured of his place in the starting XI. However, now Arsene Wenger has a difficult choice to make.

- Gunners deny Wilshere injury setback

When Monreal arrived in January, I was pleased just to see a new face come through the door of the club. My only concern was what it meant for Gibbs. He was just beginning to properly establish himself as the first choice left back at the club before he was struck down by injury again. There's now a danger for Gibbs that he'll fall into the trap of having his chances at Arsenal continually hampered by injuries.

The start of season looked to be the beginning of a good partnership on the left between Gibbs and Lukas Podolski. However, like a lot of areas on the team, it has faltered slightly as the season has progressed. Gibbs' future inclusion could be dependent on who is available to play in front, because there was still enough potential in his partnership with Podolski for it to be concerned a good option. On the other hand, if Santi Cazorla is on the left, he's likely to be better with Monreal behind him because of having played with the Spaniard before.

Having arrived with a sizeable price tag for a left back that had flown under the radar of a lot of clubs, and having been an important part of Malaga's impressive run into the Champions League, Monreal will be disappointed if he has to make do with a regular sport on the bench. Defensively, with the exception of the failed offside trap at Tottenham, he has looked tidy so far. Given how Gibbs has improved that area of his game, there isn't much to choose between the two if they were to be picked purely on their defensive ability. It could even come down to whoever looked like they were concentrating most at Wenger's movie night!

I believe that it's their attacking games that could ultimately decide who is the first choice for the left back slot. With a good assist against Aston Villa and a goal against Swansea, Monreal has shown that he can contribute higher up the pitch. Gibbs has three assists this season and also scored a memorable goal into the same net at the Liberty Stadium in the FA Cup against the Swans, so once again, the battle between them looks tight.

The challenge for Wenger is to manage to keep both happy in the squad as they are both very good left backs. Gibbs signed a long-term contract earlier this season, and Monreal won't be planning on going anywhere soon having barely touched down in London. The competition for places between two good players is the sort of situation Arsenal should have for most positions across the pitch, so it should be viewed as a good thing to have Gibbs and Monreal battling it out for the starting spot.

Personally, I can't choose between them. With both players getting rests over the international period, Wenger will be able to study the two of them and make a decision before the visit of Reading at the end of March. If he can manage both players well, it should be used as an example of being able to have two excellent players competing for the same place in the team. This could then make Wenger lose some inhibitions about strengthening other areas at the squad despite the potential to slow the development of some youngster players.