Ten games to judge the 'different animal'
At the start of every season, Arsene Wenger always says that his team should be judged after 10 games. After the extended break following the North London derby and the win in Munich, there's a slight sense of a fresh start for Arsenal in Saturday's league game at Swansea. There's a new impetus that hopefully will bring a different Arsenal to the one we've seen this campaign. If that doesn't happen, then the judgement on them after the last 10 games will be severe.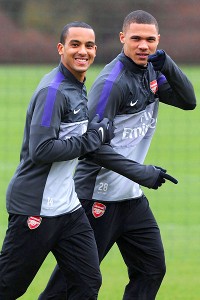 Stuart MacFarlane/Arsenal FC via Getty ImagesArsenal's Theo Walcott, left, and Kieran Gibbs have a little extra spring in their step in training ahead of Saturday's match at Swansea.
It's easy to focus on the disappointment of not pulling off the miracle in Munich, one that didn't happen because of how Arsenal played in the first leg. The Gunners set themselves up to be much harder to beat in the second leg and almost pulled off something incredible.

It's given the team the taste to want to be in the Champions League again, so their determination to make the top four in the league will be greater.

The players have to take all of the positives from Wednesday and use it build momentum in the league. That starts at Swansea on Saturday. They are a team that Arsenal have become familiar with this season having faced them three times, winning one, drawing one and losing one.

Swansea won't offer Arsenal any favours, but if the Gunners apply themselves in the same way as at the Allianz Arena, they can get the win they need to pull closer to Chelsea and Tottenham.

With renewed hope following Liverpool's win against Spurs last weekend, an Arsenal victory in South Wales would move them to within two points of Chelsea and four of Spurs before they play their matches on Sunday, three days after their Europa League games. While it might not seem like much, Arsenal need to start applying pressure on those above them, and a win on Saturday would do that.

It is Arsenal's fault they are now relying on other faltering in the remainder of the season to achieve a top-four finish. However. the other teams' fixtures lists do give Gunners fans hope that the respective gaps of five and seven points on Chelsea and Spurs can be made up.

Both sides have to play each other, while Spurs also have Manchester City and Everton in April and Chelsea have a fixture pile-up following their draw with Manchester United in the FA Cup. Arsenal do, however, need to be wary of not being caught by Liverpool and missing out on Europe altogether.

To build pressure and momentum, Wenger needs to get some continuity in his team selection. His choices worked well on Wednesday, so apart from injuries, I'd like to see a similar team picked to face Swansea. It might entice more questions about Wojciech Szczesny and Thomas Vermaelen, but that shouldn't deter Wenger from picking the players who deserve their chance after the efforts in Munich.

As in Munich, Arsenal might not have the majority of possession away at Swansea because of the Swans' impressive style of play. However that shouldn't be a concern if Arsenal can repeat their pressing high up the pitch and moving with the play as a whole defensive unit.

Any pressure or momentum built could be broken by the international break that follows this weekend's matches, but that needn't worry Arsenal at the moment. Arsene Wenger said before the Bayern second leg that Arsenal needed a big win to then see a completely different animal. Hopefully that animal can be more ferocious than the Swans on Saturday.