Timing is everything -- as 2 injured prospects are discovering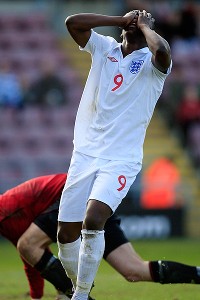 Jed Leicester/Getty ImagesOnly 20, Benik Afobe's knee injury virtually assures his future will not be at the Emirates Stadium.
In the 2000-01 season Sylvinho played 34 games for Arsenal, scored four goals and was well and truly established as the first-choice left back at the club.

Toward the end of the season he picked up an injury, which allowed Ashley Cole a seven-game run in the side. The young Englishman did well, but after a loan spell at Crystal Palace it was strongly rumoured that Arsenal were prepared to let him go back there on a permanent basis.

Then, out of the blue, Arsenal agreed to sell Sylvinho back to Corinthians, the Brazilian club they'd bought him from in the first place. After a protracted saga, the deal fell through, and after much wrangling and links with many clubs, he was sold to Celta Vigo.

Arsenal had a pressing need for a left back and the timing, for Cole, was perfect. He went on to develop brilliantly as a player (if not as a person), and the truth is the footballing gods dealt him a good hand.

Sylvinho's passport issues, which even surfaced after his move to Spain when Celta had to register him as a non-EU player, opened the door for Cole. Opportunity knocked, he answered.

But while there are stories of success, the game is littered with those who are not so lucky. This week, young striker Benik Afobe picked up a cruciate ligament injury which will rule him out for about nine months. He was on loan at Millwall after a spell at Bolton proved relatively unsuccessful, and what little chance he had of making an impact at Arsenal is surely gone.

With the need for more firepower, the Gunners will certainly dip into the transfer market this summer. Thus, a player highly thought of at the club -- and who was almost nabbed a few years ago by Barcelona, no less -- will more than likely have to find somewhere else to play football.

The same could be said of Emmanuel Frimpong. Now on loan at Fulham, and with stories circulating that Arsenal are willing to let him go on a free transfer this summer, he's another victim of injury at the worst possible time. The combative midfielder had forced his way into Arsene Wenger's thinking, and while definitely on the very fringes of the first team, showed in the Emirates Cup (a preseason tournament) that he really had something about him.

Sadly, a few days later he ruptured a cruciate ligament in training and his progress was halted. When he returned he played some early-season fixtures for Arsenal (picking up a red card against Liverpool but applauded off the pitch for his energy and commitment!), before going on loan to Wolves. After a few games ... yep ... his other cruciate went snap. So this player of promise and potential suffers another setback, and in the end it's likely to have cost him his chance of making it at Arsenal.

These guys will continue to work hard and will probably forge decent professional careers. It's not impossible, but unlikely, that Arsenal will retain them. They might not hit the heights, some of which will be down to their qualities and talent, but it's hard to escape the feeling that with better timing and a bit of luck their paths might have been very different.