Breaking ducks against the Saints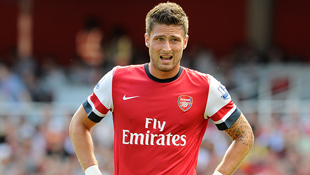 no_source / David Price/Getty ImagesOlivier Giroud: No goals for Arsenal
Ducks are strange animals. When I was younger, I regularly threw bread into the canal to the ducks, and in the main part, they were very friendly. However as I've gotten older, ducks have become increasingly hostile. From my experiences, they have a tendency to chase you and have surprisingly strong beaks if they choose to attack you. My growing dislike for ducks increased when I scored zero, or a duck, in a school cricket match. This animosity towards ducks transfers over to football, with new players always under pressure to break ducks and get the zero out of their goals column at their new club.

After Lukas Podolski and Santi Cazorla broke theirs at Anfield, the pressure has intensified on Olivier Giroud to do the same against Southampton on Saturday. Should the Frenchman do it, he'd be in good company. Ian Wright, Dennis Bergkamp and Thierry Henry all scored their first league goals for Arsenal against the Saints, and I think it's fair to say they went on to do quite well at Arsenal. Robin van Persie also netted for the first time in the Premier League against Southampton, and although he scored plenty of goals for the club, he shows that the trend of reaching legend status hasn't got a perfect success rate.

Giroud had a difficult international break, and he's missed some good chances for Arsenal this season, but I believe he's on the verge of a breakthrough. His movement off the ball has been good, and he hasn't been physically overawed by Premier League defenders. If a player is overawed, it is often a sign that they are struggling to adapt to the league. Giroud has also been under added pressure simply because he's replaced Van Persie. I don't think that there's a striker in the world that could have replaced the Dutchman and immediately started scoring at the same rate he has done for the last 20 months.

Both Bergkamp and Henry were slow to score their first goals for the club, so even the best take time to adapt. Should Giroud break his duck this weekend, I think he'll improve and start regularly finding the net. It's unrealistic to expect him to be as prolific as Van Persie. However, unlike last season, we aren't as reliant on the main striker to score the bulk of our goals. Lukas Podolski and Santi Cazorla have made encouraging starts, whilst Theo Walcott and Alex Oxlade-Chamberlain should be aiming to contribute more goals.

Both Theo and the Ox could be in line for a start at the weekend, with Abou Diaby being doubtful with a slight muscle strain. The other selection issues are at the back, with Laurent Koscielny pushing for a place, however Per Mertesacker and Thomas Vermaelen have made a brilliant start to the season. I'd like to see that partnership continue because their performances have merited it, with Koscielny potentially returning for the Champions League match in midweek. Wojciech Szczesny is back from injury, so I think he'll replace Vito Mannone, despite his back-to-back clean sheets.

Southampton will provide a different test to the other teams Arsenal have faced as I think they'll attempt to take the game to us. That should provide us with an entertaining match, rather than another one with the visitors just sitting back. We have to approach the match with the same attitude we showed at Anfield, and maintain the defensive momentum to build up an aura of being hard to beat; an aura that the team hasn't had for a good number of years.

Of course for that aura to grow, the team needs to be scoring as well as being solid at the back. If Olivier Giroud follows the path of club legends and breaks his goal scoring duck against Southampton, he may not become a legend himself, but he can massively help the progression of this team. The longer he goes with the duck hanging over him, the more criticism he'll have to duck under. As I've found out, the older you get, the more annoying ducks get, so hopefully a Giroud shot will successfully break his on Saturday.