Error-free Arsenal would bring about a good result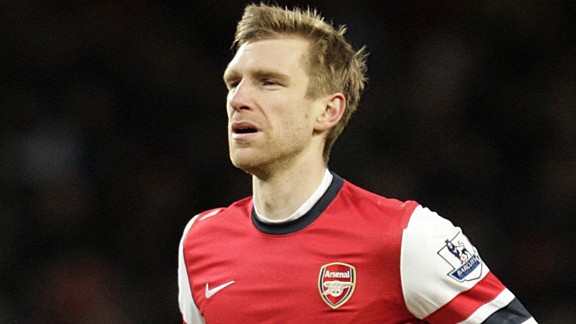 PA PhotosPer Mertesacker and his defensive colleagues need to cut out mistakes
For a team which is routinely, and for the most part correctly, castigated for its defensive problems, it has gone overlooked that Arsenal have conceded fewer goals away from home than any other Premier League team this season.

- Wenger: Spurs too reliant on Bale
- Fitch: The joint Arsenal and Tottenham XI
- Limbert: Is it as simple as stopping Bale?

They've let in just 11 on the road, and, provided they can maintain that record, they can feel confident of getting a result at White Hart Lane on Sunday. The issue, of course, is that Arsenal have, with vague apologies to Guns N' Roses, an appetite for self-destruction. If there's a way to concede a calamitous goal at the worst moment, they're more than capable of finding it.

The mistakes are usually basic, the sort of thing you would expect any professional footballer to avoid. Arsene Wenger will have watched Tottenham play West Ham on Monday, and although he spoke at his news conference about not paying particular attention to Gareth Bale, you can be quite sure he'll be instructing his defence not to do what the Hammers did.

They allowed Bale onto his currently lethal left foot, gave him time and space to get shots away, and were duly punished for it. Maybe it's not as obvious as a miskick into the path of the most in-form striker in Europe, or a goalkeeper letting a very stoppable shot go past him, but they're goals that were totally preventable.

If Arsenal can cut out the errors, they have an excellent chance of getting a good result at White Hart Lane. Although three points would be welcome, they're not essential. There are still another 10 games to play after Sunday, a grand total of 30 points, and Wenger was keen to stress that at his news conference Friday.

A draw would still leave Spurs looking over their shoulders, and even though there's a new manager, it's more or less the same squad who capitulated in such spectacular fashion last season. At the Emirates, they had a two-goal lead and, as it stood, a 15-point lead over Arsenal. At the final whistle, having been on the end of the one of the Gunners' most dynamic performances in recent years, they were beaten, shell shocked, and they never recovered

That will be a nagging doubt in their minds. A home win might just break that psychological barrier; anything else, especially an Arsenal win, and those doubts and worries will certainly resurface. With so many points to play for, and to drop, they'll know that anything can happen, and so much of what happens in football is dictated by a team's self-belief, or lack thereof.

Although Arsenal will rightly be aware of the threat posed by Bale, Spurs will have plenty to contend with themselves. Theo Walcott hasn't scored in five games, his longest barren streak of the season, but he has three in his past two games against the old enemy. Lukas Podolski, Santi Cazorla, Olivier Giroud and even Jack Wilshere are capable, and neither team is terribly convincing from a defensive point of view.

Recent seasons have seen some remarkable North London derby scorelines. Leaving aside both Arsenal's 5-2s, the Gunners have beaten Spurs 5-1 in the Carling Cup, we've seen 4-4 and 3-3 draws, and it'd be no surprise to see a high-scoring game Sunday.

Although Spurs will feel this is a game in which a win could mean much more than three points, Arsenal know they simply can't drop points. It's all set up for a fascinating encounter.