Is it as simple as stopping Gareth Bale?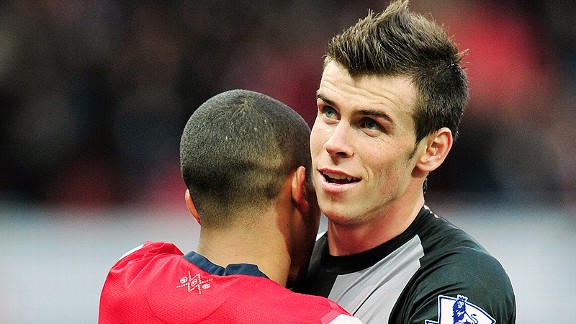 Glyn Kirk/AFP/Getty ImagesGareth Bale used to be a jinx for Spurs. Not anymore.
Accusations of being a one-man team are nothing new in North London. Last season, as much as Arsenal fans tried to deny it, Robin van Persie carried the team for a significant chunk of the season. This term, it is Tottenham's turn to fend off those suggestions, with Gareth Bale seemingly single-handedly taking on the task of getting Spurs into the Champions League.

- Fitch: Joint Arsenal-Tottenham XI
- Wenger: We're not scared of Bale

From an Arsenal point of view, I miss the days when his appearance on the Tottenham team sheet almost guaranteed that they wouldn't secure three points. With Bale in the side Spurs endured a winless streak that ran through two years, three managers, 25 games and 1,533 minutes.

However, and unfortunately, Bale has now undoubtedly become one of the most dangerous players in the Premier League. The quiet left-back has become an attacker who can play anywhere across the forward line. I'd be lying if I said I wasn't scared of what he might do in his current form against Arsenal on Sunday. However, should the Gunners become too obsessed with Bale?

Manager Arsene Wenger claims he won't be. "We don't plan for anybody," he said in his pre-match press conference. "It is always the same - focus on our strengths and forget about your opponent. There is nobody special that you least like to face. All players have different qualities."

All well and good Arsene, but with Bacary Sagna out injured, Carl Jenkinson is likely to start at right-back. Considering his sending off at Sunderland, there's a very real fear that Bale could tempt Jenkinson into similar mistimed challenges, which would leave Arsenal in a spot of bother. It's not unreasonable to expect Bale to target Jenkinson as a weak link in the Arsenal back four. Hopefully the former Charlton Athletic defender will rise to the occasion and be able to keep stride with Bale.

While playing with too much passion can lead to misjudgements, to have a man such as Jenkinson on the pitch can help the others realise the importance of the derby. To say he'll be up for this match could be the biggest understatement of the season.

That battle between Bale and Jenkinson could be key, but if Arsenal can cut off the supply to the Welshman and win the midfield battle they can complete the double over their North London rivals. This will be Wenger's key selection dilemma. Personally, I'd like to see Tomas Rosicky given the nod to start in the advanced role behind the main striker.

With Lukas Podolski slightly out of favour as a starter, Santi Cazorla could begin on the left, enabling Rosicky to play in the position he excelled in last season. In the 5-2 victory a year ago, Rosicky ran Scott Parker ragged and was one of the main reasons for the epic comeback. His committed and quicker style of play would suit the derby more than the restrained style of Aaron Ramsey or Abou Diaby. It would also give Jack Wilshere the chance to be right at the heart of the match, rather than trying to support Olivier Giroud. In a high intensity game likely to be played at a quick pace, having Wilshere deeper could enable Arsenal to break faster.

In recent game Arsenal have been the architects of their own downfall with a string of errors leading to costly goals. This simply can't be allowed to happen at White Hart Lane on Sunday if derby bragging rights are to be won. Emotions will be high and tackles will be firm but concentration will be key.

Whilst Arsenal fans always have high expectations for this fixture, I get the sense that some Tottenham fans view this as their chance to emerge from the Gunners' shadow and put some clear daylight between themselves and Arsenal in the table. It isn't a position Spurs are used to, so if Arsenal go to White Hart Lane and impose themselves, the nerves could set in around the ground and in the Tottenham team. I'm sure Arsenal fans on hand will be quick to remind the home support how big the points gap was last season.

While they will have to keep an eye on Bale, if the Gunners play their own game well, a derby day win is within their grasp. Regardless of any other subplots, this is always the one that really matters.