Lukas Podolski's invisibility cloak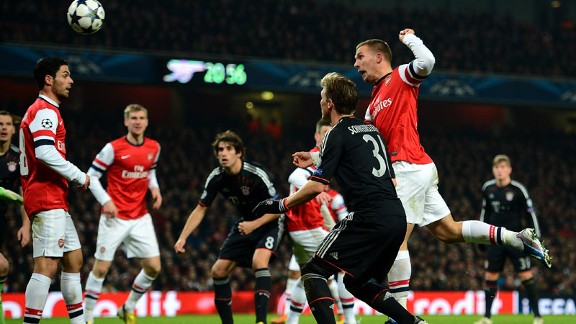 GettyImagesPodolski scored against Bayern but then went missing and was subbed
Whenever Arsenal are linked with a new signing, it's become commonplace for hordes of fans to go on YouTube and watch a craftily constructed compilation of that player. Often, these compilations aren't a good measure of the transfer target the club are about to sign.

When the name Andre Santos first appeared on the Arsenal rumour mill, in the online footage he appeared to be an attacking full-back with great tricks, someone that was capable of scoring great goals from outside the box and was a free-kick specialist. The reality obviously turned out to be somewhat different.

When Lukas Podolski was first mentioned in the same breath as Arsenal last summer, his talents were already fairly well known, having won a century of caps for Germany, however I, like many Gooners, still went to YouTube to see his Bundesliga goals. It showed a man that looked like a leader and someone that could take control of a game and make things happen.

What YouTube doesn't show, is Podolski's rather strange ability to disappear in matches. And Arsenal must be hoping that this trend doesn't morph into full-blown Andrei Arshavin syndrome. The disease that saw the Russian first become invisible in matches and then disappear completely from the matchday squad.

At the start of the season, it was concerning to see Podolski incapable of playing 90 minutes for Arsenal. He didn't complete a full game in the Premier League for the Gunners until the 17th December, away to Reading. However, rather than disappearing off to the bench, the bigger concern is how Podolski disappears when on the pitch.

All too often, I find myself wondering if the forward is still playing. There also doesn't seem to be common factor as to the matches in which Podolski dons his invisibility cloak. Against Bradford in the League Cup, someone with the Germany international's calibre should have been able to dominate the game, but he was substituted with 20 minutes to go after an anonymous performance. Yet against West Ham, Podolski was involved in all of Arsenal's good moves, scored a belter from 30 yards and grabbed three superb assists.

Ahead of the Bayern Munich match last week - before which he hadn't featured in the weekend win - I was optimistic that a rested and revved up Podolski would produce a big performance against his former team. Whilst he did score, once Manuel Neuer had flapped at a corner, he couldn't be seen for the majority of the game.

In recent weeks, it seems like Arsene Wenger has noticed, or rather not noticed, Podolski's performances, and has chosen Santi Cazorla on the left instead. I suspect he will do something similar for the North London derby on Sunday, so hopefully, should Podolski make an appearance from the bench, he'll show more desire to score than he did when he twice failed to connect with balls across the box against Aston Villa.

It is important to put Podolski's form in some context. The frustrations at him disappearing in games comes from his overall good goal and assist record considering he's mainly played out wide. At times, his link up with Olivier Giroud has looked like it has the potential to open up most teams.

Also, considering it is Podolski's first season in England, the time to truly judge him could be next season. Apart from the odd goal, can anyone really remember too much about Robert Pires' first season at the club? If the German can continue to make telling contributions and lose the invisibility cloak, he can help Arsenal get back into the Champions League and set himself up for a better second season.