Arsenal now better placed to keep best players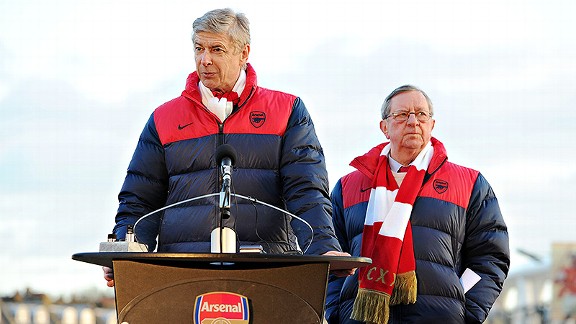 David Price/Getty ImagesWith all the financial cards on the table, Arsenal supporters will expect manager Arsene Wenger and chairman Peter Hill-Wood to be more competitive in the player market.
In the text of Arsenal's financial results released Monday, there is an interesting line from chairman Peter Hill-Wood.

"Let me be quite clear that our intention is to keep our best players and recruit new talent to make us stronger," he said.

It would be a foolish man who would suggest this statement was a reiteration of an ongoing policy at Arsenal. Over the last few seasons, the club has lost too many players it wanted to keep. While the likes of Kolo Toure, Gael Clichy and Emmanuel Adebayor were quite willingly sold, there's no question that Arsene Wenger would have preferred to keep Cesc Fabregas, Robin van Persie and Samir Nasri.

While the latter's insistence that his departure was not motivated by money will certainly raise some eyebrows, the sales of Fabregas and van Persie came about because both players wanted to be at more competitive clubs. That was a bitter pill to swallow, but the transfer fees softened the blow at corporate level because they went a long way to bolstering the club's finances when they really needed it.

Hampered by commercial deals which were necessary to build the Emirates, Arsenal have been reliant on income from player sales; certainly far more than any other club which has expectations of winning things. At the bottom end of the table it's a fact of life -- not so much at the top.

But now things are changing. The new sponsorship deal with Emirates has been announced, and with a new kit deal imminent it means Arsenal will have more cash at their disposal. At the very least it should stop offers for their best players being so tempting.

For too long it's been easy to rationalise these decisions from a financial point of view; no longer. Arsenal now have the financial clout to turn them down (even if this doesn't take into account the desire of the player -- in many cases the players who were sold wanted to go).

There have been signs that things are improving. Although the Theo Walcott situation was touch-and-go for quite a while, the fact that Arsenal persuaded him to sign a new deal when he was in sight of a lucrative Bosman move sends a very positive message. It might be a hard sell to say it's a step forward, but at the very least it's stopped the rot.

The Gunners have signed five of their brightest British stars to new long-term contracts. Although there's a variance in quality between Jack Wilshere, Carl Jenkinson, Aaron Ramsey, Kieran Gibbs and Alex Oxlade-Chamberlain, it's another sign that there's a seriousness about keeping the squad together.

Clearly Wilshere is the jewel in the crown -- he has the talent and potential to be an outstanding midfield player, and the club cannot afford to make the same mistake they made when it came to Cesc Fabregas.

Rather than build around Fabregas, and provide him with the players who would help him and Arsenal flourish, they let the Catalan carry the team. Instead of Xabi Alonso alongside him, Fabregas had to educate Alex Song, a player who developed well but was still thrust into first-team football at Arsenal before his time.

It might well have been a consequence of the financial situation, as well as Wenger's project, to try to combat that, but you have to hope it's still a lesson learned.

Now, Arsenal have the resources to build a properly competitive team. They can keep their best players, they can afford to add more established quality, and there are no important players nearing the end of their contracts.

If they have been restricted by finances, and forced into making footballing decisions with an accountant's hat, it looks as if those days are fading into the distance. Now, it's a question of how serious they are about winning, about maintaining the best part of their squad and competing properly.

Do that, and the job of keeping the players who can win you things becomes a lot easier.