Focus now 100% on Premier League
Although Tuesday's 3-1 loss to Bayern Munich hasn't completely closed the door on Arsenal's chances of silverware this season, Arsene Wenger knows his team stand little chance of turning the tie around in the second leg in Germany.

"Let's not hide the truth: it will be extremely difficult against a team of that quality," he said Tuesday. "They didn't play two finals in the last three years without that quality that we have seen tonight."

-- Supporters urge change at Board level
-- Bayern's Ribery: Win was 'easy'

The focus for Wenger, and his team, must now be on the Premier League. Before the second leg they have to face Tottenham, currently four points clear in the table, with visits from Aston Villa and Everton either side of that fixture. Those are three games from which they really need maximum points to help the push for a top-four finish. It won't be easy.

Villa, who visit the Emirates Saturday, were stubborn and obstinate in the away fixture, Spurs are enjoying a good season under new boss Andre Villas-Boas, and it's very rare that Everton make life less than difficult for their opponents. When you take into consideration that this Gunners' side is low on confidence and capable of losing to the lowliest of opposition, it simply adds to the task ahead of them.

So how do they do it? How does a team and a manager under pressure get themselves back on track? Some suggestions:

1 -- Get back to basics: When things aren't going your way, work harder. Be more aggressive, don't sit off the opposition, press them. Arsenal need their luck to change; as the saying goes, "The harder I work, the luckier I get."

2 -- Find a place for Tomas Rosicky: The Czech's season has been blighted by an injury picked up at Euro 2012, but he's exactly the kind of player Arsenal need for a more high-tempo game.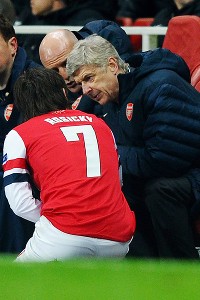 Laurence Griffiths/Bongarts/Getty ImagesThe besieged Arsene Wenger would be well advised to make Tomas Rosicky a starter.
Like Jack Wilshere, he has the burst of pace to drive between defensive lines and get beyond the midfielders into dangerous space. He never stops running and Rosicky was a crucial part of Arsenal's run-in last season. He's experienced, he'll give you 100 percent and although other midfielders bring different qualities, I think Wenger needs Rosicky in his team now.

3 -- Start games more strongly: Arsenal have been too reactive this season. It is an issue the club has in general, and it's reflected on the pitch. Far too often it takes going a goal down or a poor first half to get them going. It cannot be a question of motivation; they will be fired up before coming out to kickoff, but there's a mental block, something preventing them from taking hold of matches from the off.

4 -- Remind them where they are and what is at stake: Champions League football is a must for Arsenal Football Club. For all the trauma and disappointment of the last week, they're only four points off fourth. There are still 33 points to play for. There may well be some margin for error, but if these guys want to be playing in Europe's top competition next season, they've got to perform.

Top sportsmen have to deal with pressure, they should thrive on it, not be crippled by it.

5 -- Have more faith in Podolski and Giroud: Their relationship this season has built slowly but it looked recently as if they were really finding some understanding. But Wenger has seen fit to rotate and rest both at times. Lukas Podolski is Arsenal's best finisher; Olivier Giroud, while limited, still has a decent goal and assist tally, and for Arsenal to win as many games as they need, these two need to play as often as possible.

It will be tough; cup defeats hurt, but there's enough experience in that Arsenal dressing room to drag themselves out of the position they're in. Whatever changes need to take place this summer, they will be much easier to implement if they have finished in the top four.