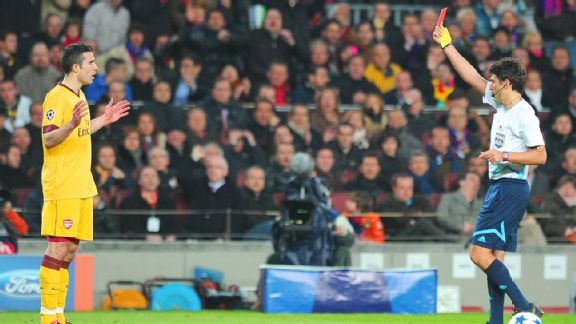 Carl de Souza/Getty ImagesRobin van Persie's second-leg red card against Barcelona in the 2010-11 Champions League round of 16 could be avenged should the Gunners draw the Catalonians once again.
Most Arsenal fans will be disappointed with the teams that they can face in the round of 16 in the Champions League.

Expecting to face the big names of Europe in the most prestigious tournament around, they now have to contend with some of the lesser lights. Teams that might not be familiar to the average football fan. Whoever heard of Real Madrid (a team that that takes its name from the fact that somebody else tried to impersonate them on Twitter)?

- McNicholas: Arsenal with reason to be proud
- Report: Wenger hoping for kind draw

Then there's Atletico Madrid? Continue Reading...