Simply not good enough from players or manager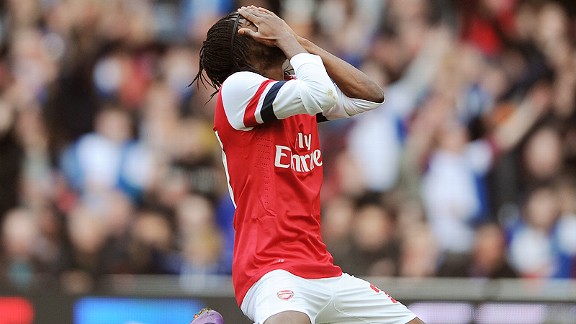 Stuart MacFarlane/Getty ImagesThe agony expressed by Gervinho after his first-half miss summed up Arsenal's FA Cup defeat to Blackburn.
Arsenal's best chance of ending their increasingly lengthy trophy drought went out the window today after a 1-0 FA Cup defeat to Blackburn at the Emirates.

- Arsenal crashes out of FA Cup
- Match report: Arsenal 0-1 Blackburn

It's the second cup exit in one season to a lower-league team, and Blackburn today were very obviously that. They offered little in attack and set up to deny the home side space in their final third. They did that well enough but were aided and abetted by an Arsenal side that lumbered through a torpid first half, and looked like a team who thought they'd have to do the minimum required to win the game.

It's all well and good having most of the possession, but you have to do more with the ball than simply keep it. The Gunners found it hard to create clear-cut chances but were wasteful when they did. Their best attacking moment of the match came late in the first half. Tomas Rosicky played a perfect pass to Gervinho; the Ivorian was clean through on goal with only the keeper to beat, but true to his recent form in a red-and-white shirt, he sent his shot wide.

At this level that's really not good enough. It's obvious to say that would have changed the complexion of the game, but instead of going in 1-0 up and facing a team that would have had to come out and play a bit in the second half, it was more of the same: lots of the ball, lots of Blackburn sitting deep, increasing frustration for fans who know that this is an Arsenal team well capable of snatching defeat from the jaws of victory.

So it proved, and as is often the case, the goal had a Keystone Kops element to it. When Wojciech Szczesny parried a shot directly into the path of Colin Kazim-Richards, the Blackburn player totally miskicked his shot. He drove it into the ground, it bounced up in the air, and Thomas Vermaelen could only look on in horror as it hit the post and went in. When Arsenal make their end-of-season DVD, they should set the goals they concede to a soundtrack of cartoon sound effects.

That the goal came minutes after Rosicky hit the bar and Arsene Wenger brought on Jack Wilshere, Santi Cazorla and Theo Walcott from the bench made it all the more typical of this season. Send on the knights in shining armour to win the game, but contrive to mess it all up with an easily avoidable goal in the meantime.

The issue of squad depth is one that will trouble Arsenal fans. The players who came in and were expected to produce today -- Gervinho, Abou Diaby and Alex Oxlade-Chamberlain in particular -- simply did not perform well enough. It was too little, too late to bring on the big guns, even if Arsenal looked vaguely more threatening with them on the pitch.

Today's game was a chance for these guys to stake a claim for a first-team place, to show the manager they're ready to play in every game, but too many of them played like it was a training exercise. There was a genuine lack of urgency to win the game, and it proved so, so costly.

The bigger question, though, is why Wenger gambled so heavily when the FA Cup was so important to the club. Of course Bayern Munich is a more glamorous fixture, but it's not a more important one. Arsenal's chances of winning the FA Cup were far greater than their chances of lifting the Champions League, but it looks as if the Arsenal manager prioritised a tournament he's unlikely to win for one he could have seen his team go the distance in far more easily.

It's not the first time he's done it, but never before has he been under so much pressure to win something. He might have faith in his players, he might believe they're capable of more, but a team and a manager can only be judged on results, and too many of Arsenal's have been poor this season.

When it came to the crunch, players and manager have been found wanting. The lessons of the Bradford game were not learned. Arsenal and Wenger didn't treat this game as seriously as they should have. They had an eye on Tuesday night the whole time and it was their undoing.

Bayern will hardly be quaking in their boots.