Wenger rotating towards Wembley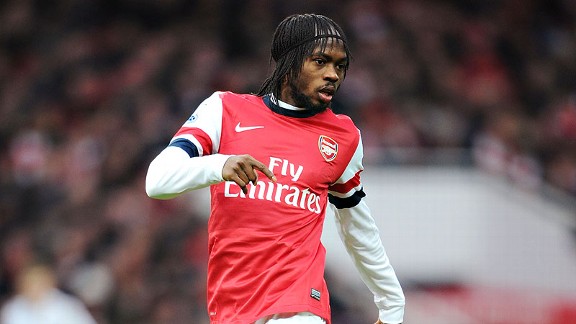 David Price/Getty ImagesGervinho: Struggled at Arsenal after winning French title with Lille.
Saturday's FA Cup 5th round tie with Blackburn Rovers presents Arsenal manager Arsene Wenger with a slight problem. To use a popular metaphor, the desire to win the FA Cup and end the trophyless run is like the rock, and the coming Champions League tie with Bayern Munich is the hard place.

- Sagna: We don't need Van Persie

Whichever line-up that Wenger selects on Saturday, he is likely to come in for criticism from some Arsenal fans. If the team isn't strong enough, he will be derided for not taking the cup seriously. If the team is at full strength, he could be criticised for risking injuries ahead of the crunch clash in Europe.

This problem arguably stems back to the club not strengthening the squad more during the January transfer window and allowing potential players that could have been rotated into the team to go out on loan. However, there's not much point worrying about what could have been in January. It's been and gone so Wenger has to get the maximum out of the players that remain at the club.

Despite not wanting to take Blackburn lightly, Wenger will have to rotate his squad for the match. Even though there's been a week since the win at Sunderland, some players put a lot of effort into that game, and it was at the end of a period of five weeks where international players featured in back-to-back weekend and midweek games. The rotation worked well at Brighton in the last round, so I doubt Wenger will see a reason to not do the same against Rovers.

Whilst it's frustrating that Nacho Monreal will be ineligible to play against Bayern Munich, it does at least mean that there will be no concerns over protecting him in the FA Cup. The match will also form part of his crash-course education in English football. Alongside him at left-back, there isn't much wiggle room for rotation along the rest of the back-line. There are still injury doubts over Laurent Koscielny and Thomas Vermaelen, so Per Mertesacker will have to play. Even though Bacary Sagna was awesome at centre-back last weekend, he'll be needed at right-back with Carl Jenkinson suspended, so Ignasi Miquel could start in the middle.

I wouldn't be surprised to see wholesale changes in the midfield three, with Mikel Arteta, Jack Wilshere and Santi Cazorla being available on the bench should they be needed. The match should be a chance for Tomas Rosicky to remind fans why he was offered a new contract last season. Although it's a cup match, Blackburn are likely to have a more defensive set-up, so Rosicky's energy and drive in the midfield can give the game a quicker tempo to make it easier for Arsenal to expose their Championship opponents.

In the front three, Alex Oxlade-Chamberlain and Gervinho have good chances of starting. Both have had indifferent seasons, so hopefully they can re-find form. They're unlikely to start against Bayern Munich, but to have attacking players on the bench with confidence could be important later in the tie. After Lukas Podolski was rested at Sunderland and was able to see the sights of London this week, I'd like to see him in the central striker's role should Olivier Giroud be rested.

The ideal situation for Wenger is obviously to rest his key players and get through to the FA Cup quarter-finals without the need for a replay. Rotating the team and resting players for Bayern might seem risky to some, but it is needed to give Arsenal the best chance of getting closer to Wembley in both the FA Cup and in Europe.