Ambitious Bob Bradley hoping Stabaek is a launching pad to Europe
Bob Bradley's appointment as manager of Norwegian side Stabaek was only a few hours old, yet he was already hard at work.

Bradley spent much of Jan. 3 meeting with the various coaches associated with the club. He planned to take in a training session of the club's under-19 team the next day. The rest of the weekend would be spent preparing for the first official day of training.

Perhaps that explains why Bradley seemed intent on downplaying his latest pioneering adventure, this time as the first American to be in charge of a top-flight club in Europe.

"I don't think about it that way," he said when asked what his appointment means in terms of his country's standing in the world of soccer. "If in some small way this helps, good. As you look back, every player that went to Europe and stuck it out, and played and showed people what they were all about, they helped move things along for the next player. I'm sure the same thing works with coaches."

Granted, Bradley has plenty of other things to think about. There is a new culture to adapt to, although given his deft handling of the political and cultural minefield during his time as manager of Egypt's national team, that shouldn't prove too difficult. Of greater concern will be finding a way to maintain Stabaek's first-division status -- it was recently promoted to the Tippeligaen -- not to mention that he'll have to do so with a modest budget.

But Bradley's appointment was met with enthusiasm by everyone connected with U.S. soccer, including those coaches who preceded him.

"I think it's fantastic," said former U.S. international Brent Goulet, who managed German third-tier side Elversberg for parts of five seasons. "I think that education of being in Europe is going to help Bradley. Getting into Europe, you have to have tactical awareness and structure, keeping your teams compact and everything. That's going to give him extra recognition and knowledge that is very hard to come by."

There have been six Americans who at one time or another managed European clubs. Goulet, one of the few Americans to possess a UEFA Pro coaching license, is convinced that coaching education is an area where the U.S. soccer system lags behind the rest of the world. But there also remains a general skepticism about the United States' place in the game, something that Bradley is plenty aware of.

"As much as the game has come so far in the U.S. -- in MLS, the national team, the youth national team -- earning respect for players and coaches is still a challenge," he said. "That's just the way it works. You can't be offended by that. You just have to continue to look for ways to show people what you're all about and how good you are, whether you're a player or a coach."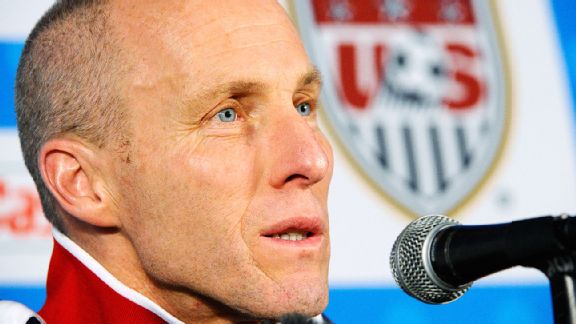 Kevork Djansezian/Getty ImagesBetween his stint as Egypt manager and becoming the head coach of Stabaek, Bob Bradley has been a trailblazer for American coaches.
All the more reason why Bradley had to choose carefully when it came to making his initial foray into Europe. Granted, it's not as if there were a ton of overseas opportunities coming his way, but he didn't have to take the first offer that came along, either. He admitted that in the aftermath of his Egypt experience, one that was fraught with challenges, some of his friends suggested that he step back from coaching for a while.

"I never felt tired," he countered. "When I'm involved in something, I'm lucky, I have an ability to work hard and really commit myself. And then when it's finished I can still feel good about what happened, and I'm ready so if the next challenge comes fast to say, 'All right, it sounds great.' "

Bradley's travels have also allowed him to see some of the world's biggest clubs up close and get a sense of what they did wrong as well as right. He indicated that exposure to different methodologies helped him gain a comfort level with the Stabaek position.

"When you get a little bit of a chance to see how Bayern Munich works, how Dortmund works, Real Madrid, Barcelona, Manchester United, Arsenal, you see some great things," Bradley said. "But I've also seen some really big clubs that do everything wrong. And then I've seen some small clubs that do a lot right. And I got the sense that Stabaek was a small club that had the right idea and that this would be a great place to come and dig in for a couple of years or perhaps even longer. That's how it came about."

So what can Bradley expect now that he's landed in Europe? Current Columbus Crew manager Gregg Berhalter spent 1 1/2 years with Swedish second-division side Hammarby, and recalls how Scandinavian teams placed a heavy emphasis on tactics.

"The coaches in Scandinavia, a lot of them are educators, a lot of them are well-studied, and they pride themselves on tactics," he said. "So I think from that side of it, it will be a good experience. I think you're in an area where it's not one formation throughout the whole league."

Berhalter added that the region is one that is open to the idea of bringing in managers from elsewhere.

"The fact that you don't have a UEFA Pro license would prohibit you from coaching in a lot of the other, bigger countries," he said. "Scandinavia is open to that. I think that's a benefit right there, that they have this willingness to try things; they're progressive with that type of thing. More importantly, Bob's desire makes him a good fit. He's very driven and he has high aspirations for himself, and I think that helps propel you in situations like this."

And Bradley is certainly hoping that success in Norway will catapult him to greater things. In fact, he made no attempt to hide his ambition of someday working in one of Europe's major leagues. But Bradley is also a manager who possesses a laser-like focus on the present. Without that kind of commitment, the opportunity to coach in a bigger league will never materialize.

To that end, Bradley said he hopes to replicate the approach of German side Borussia Dortmund, albeit on a much smaller scale, given that Stabaek's stadium seats just 7,000, and will never rival the 80,000-plus crowds regularly filling the Westfalenstadion. But there are some parallels. It wasn't that long ago that Dortmund was in dire financial straits before rebuilding itself through an impressive generation of dynamic young players. Bradley hopes to do the same in Norway.

"It's going to require good work, it's going to require creativity, it's going to require doing a lot of things right," he said. "The biggest challenge is finding the right mix between the young players that we want to build around, and some experienced players that they can learn from. Playing good football, positive football, is going to be an important part, but also having a mentality that the team is going to fight together, fight for every point, and compete. These are things that every club that moves into the top league understands.

"I'm ready to get going."

In the U.S., fans are just as eager to see how he fares.