On Gedion Zelalem, soccer potential and 'American-ness'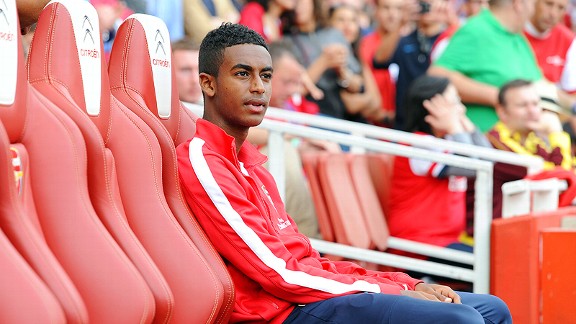 David Price/Arsenal FC/Getty ImagesThough he may never play for the U.S. national team, Gedion Zelalem feels like the next great American player.
This story is not about Gedion Zelalem, the 16-year-old Arsenal wunderkind who dressed for the Gunners in the North London Derby on Sunday. This story is not about Zelalem's particular background, that of a German-born son of Ethiopian immigrants who moved to the United States when Gedion was just 9 years old.

This story is about what Gedion Zelalem represents as an achingly young, potentially transcendent talent whose loyalties cannot possibly be explained in a 1,200-word column by an American with no direct ties to any other country. I can't empathize with Zelalem just as I can't empathize with Giuseppe Rossi or Neven Subotic or Timmy Chandler or any of the many, many Americans of Mexican background who face difficult decisions over which country they'll represent in international soccer. How do you quantify just how "American" one feels? How much does such a thing even matter in the modern game? How much does perceived "American-ness" matter when the U.S. players take the field with the Stars and Stripes emblazoned on their sleeves?

Zelalem's American connections are substantial, if not official enough to qualify him for a place on the U.S. men's national team or one of its youth teams (he did train with the U.S. U-15s). From the ages of 9 to 16, Zelalem played in the Maryland suburbs of Washington, D.C., both for a club (Olney Rangers) and a high school (Walter Johnson H.S., where he earned honorable mention all-region from the Washington Post as a freshman). That's eight years, perhaps the most crucial years of his development, spent honing his skills in an American soccer environment. No matter how his Arsenal career plays out, the fact that Arsene Wenger rates him highly enough to include the teenager in his game-day squad for an EPL game reflects positively on the teams he played for, the coaching he received, and the rising level of player development in United States.

To that point, American fans can hardly be faulted for hoping that Zelalem becomes an American citizen and one day suits up for the U.S. national team. Even more than being a talented young player, Zelalem is a talented creative midfielder, something the United States has never truly had. Certainly, the U.S. has never taken the field with a true "No. 10" whose ability to facilitate goals merited attention from a club as storied as Arsenal. As a nation of players too often stereotyped for their "fitness" and "hustle," a player with Zelalem's potential is the Holy Grail. One need not go further than the fascination with Freddy Adu -- one that long outlasted Adu's legitimate potential to be a consistent national team player -- to see the innate longing that exists in a soccer nation desperate to prove it is more than set-piece goals and a well-trained collection of legs.

Zelalem is both player and symbol. Practically speaking, he might improve the U.S. team, forgetting for a moment his youth and inexperience; symbolically, lining up with a No. 10 who can pull the type of strings that elicit involuntary squeals of joy would represent a "next step" for the national team. In the realm of international competition, what most simply separates the best nations in the world from the rest of the planet is a player in the middle, deft of touch and prescient of thought, calmly leading his teammates to the trough of the goal where they can't help but drink. The arrival of a playmaker with Zelalem's presumed abilities not only brings the promise of goals (and pretty ones at that) but also announces the U.S. as a legitimate soccer country in a way that surprise runs to the World Cup quarterfinals and last-minute counters against Algeria simply cannot.

Maybe Zelalem is that player, maybe he's not. Whatever his future, he is pined after because of a heady mix of several factors:

A. His obvious ability, one that's most prominently displayed via his collection of YouTube clips, a supremely poor judge of long-term success that is nonetheless provocative.

B. Solid American connections that demand little or none of the cognitive dissonance needed to see a team with several players reared abroad as representative of American soccer.

C. A pedigree built on his attachment to Arsenal, a club noted for nurturing gifted and creative players who are adept at flowing, attractive soccer under Arsene Wenger.

Zelalem is a perfect storm embodied in one player -- position, ability, age and provenance. Maybe the hype isn't there (yet), but from an American soccer psychological standpoint, he's much more symbolically important than Rossi or Subotic could ever be.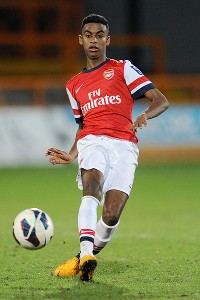 David Price/Arsenal FC/Getty ImagesZelalem's talent as a No. 10 is something the U.S. has never really had, thus amplifying the hype surrounding the young midfielder.

Ultimately, Zelalem's German roots are strong. Despite his long residence in the U.S., where he came into his own as a player and was spotted by an Arsenal scout, Zelalem spent time in the German youth setup. His father, who moved to London with him, is undoubtedly a dominant influence in his life. American citizenship is not guaranteed, especially with his move abroad, and may not come at all. There's a possibility, due to German citizenship laws, that it might come down to keeping an EU passport (and the ability to play in England without a work permit) or American naturalization. It's easy to see which way his choice would go.

For the time being, however, he remains a possible dream addition to the U.S. player pool, a hypothetical with unique enough talents that his mere existence sets off fevered dreams of American teams playing transcendent soccer in the near future. Truth be told, those dreams and any specific desires to project him -- at age 16 -- into the USMNT are unfair. Unfair to everyone involved, including the fans.

At just 16, no one knows what the future holds for Zelalem. Injury, inconsistency, or that nebulous force that sometimes conspires to turn prodigies into average players could transform him into something less than our unfettered imaginations envision. He might not, in the end, be that good. Any angst over his choice of which nation to represent -- taking into account that he's not even eligible for the U.S. yet, and may never be -- might be wasted emotional energy. It's not a zero-sum game, but one can't help but wonder if our time would be better spent fretting over players who are available in the here and now, even if their age and rawness mean they won't be contributing to the senior team anytime soon.

Then again, if Zelalem wasn't the focus of American fancy, some other youngster with a measure of talent and multiple national loyalties would rise to take his place. In fact, there are probably several such players out there right now, their careers closely tracked by a cadre of fans anxious to turn every dual-international prospect into a future American star -- not only because of their talent but also because they validate American soccer if they choose to play for the United States. Nor is Zelalem so well-known that his story is much more than a curiosity for the bulk of the fan base. If he doesn't meet his apparent potential or ultimately chooses to play for Germany, most American fans will be none the wiser.

Yet regardless of the outcome of Gedion Zelalem's nascent professional career, his mere existence bodes well for the future of the American game. The German-born son of Ethiopian parents arrived in the United States at an age when his soccer future was not yet written and grew into a star-in-waiting at the age of 16. Coming here did not squash his natural gifts. It cultivated them.

Whatever his international future, Gedion Zelalem is an American in nearly all of the ways that truly matter.