American keepers remain a valued export
The conventional wisdom goes that America's strongest export is its ubiquitous culture. This is true, but only because America's second-strongest import, the goalkeeper, has trended ever-so-slightly downward in recent years. That doesn't mean American goalkeepers aren't still a strong value in the European market, but with age taking its necessary toll, the pure number of Yanks standing between the sticks across the continent has hit something of a valley.

Nonetheless, that both of the United States men's national team's top two keepers ply their trade in the most visible league in the world, the English Premier League, is a reason for confidence. While Brad Friedel spends the sunset of his career as a backup at Tottenham and youngster Cody Cropper serves an apprenticeship with Southampton, Jurgen Klinsmann's 1 and 1A prop up aspirational sides in different stages of development. If and when America produces another batch of top-level keepers, the number of USMNT-eligible netminders in Europe will rise accordingly. Past performance does not always predict future results, except when it comes to America and its goalkeepers. At least that's the hope.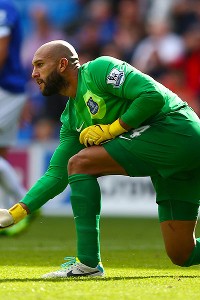 Michael Steele/Getty ImagesUntil further notice and despite tenuous times at Everton, Tim Howard will remain the top keeper choice for the U.S.
Tim Howard remains a stalwart at Everton, having navigated the transition to a new manager for the time being. Perhaps his position is slightly more tenuous than before, if only because Howard is now 34 and because Roberto Martinez can't be that much different from the average newly appointed manager in his desire to shape the team his way. Howard has competition in the newly signed Joel Robles, so a slip or two won't be good for his playing prospects.

But Howard's status and his Premier League record are good enough that they're taken a bit for granted. Focus naturally shifts to the other American starter in England's top flight.

Until Klinsmann says otherwise, Brad Guzan is not the USMNT's first-choice goalkeeper. That job still belongs to Howard, a consistent figure in an American lineup that has seen more than its share of turnover. Guzan is the backup, ready to step in if and when Howard is unable to play, but he's supremely capable of carrying the load. Guzan did just that during the Americans' two home qualifiers in March, holding the line in a blizzard in Denver against Costa Rica and keeping a surprising clean sheet against Mexico in the cauldron of Azteca.

His status as No. 2 is not necessarily a reflection on Guzan, who solidified himself as Aston Villa's No. 1 last season and shows all the hallmarks of being the next great American goalkeeper. The 28-year-old is good enough to start for the USMNT, but like Howard did before him, he must wait his turn. For the time being it's enough that he build his reputation in England as one of that league's strongest keepers, serving as a key cog in Villa's effort to improve on a disappointing season last year.

Three matches into the new season, Guzan is one of Villa's brighter lights during a brutal opening run of games. The Birmingham club grabbed three surprising points against Arsenal at the Emirates in part thanks to Guzan's heroics. A midweek date with Chelsea ended in a 2-1 defeat. One of the Blues' goals cruelly came on an own goal after Guzan saved a shot directly into the chest of Villa defender Antonio Luna. Then, on Saturday, Guzan and Villa held Liverpool to just one shot on goal but lost 1-0. The only on-target effort was the winner, a clever finish by Liverpool forward Daniel Sturridge that Guzan had no chance of saving.

Three games. One win, two losses, four goals conceded. America's No. 2 appears to be playing for a better Villa team this year, but only time will tell if Guzan must deal with the same barrage he did last season. A stretch of Arsenal-Chelsea-Liverpool is a bad sample on which to judge, and it must be said that Guzan is partially responsible for Villa getting any points at all out of the run.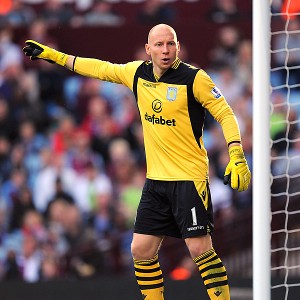 Stu Forster/Getty ImagesBrad Guzan remains the future of the U.S. goalkeeping position as long as he remains a consistent performer for Villa.
It's also a commentary on Guzan's abilities that despite Villa's struggles, the former Chivas USA star prompted serious discussion about his potential to overtake Howard last year. Guzan remains the "future" of the U.S. goalkeeping position as long as he remains a consistent performer for Villa and Howard is playing at a high level at Goodison Park. In the world of goalkeepers, particularly American goalkeepers, 28 is still young -- less clear than Guzan's eventual ascension is which American keepers will be following in his footsteps abroad.

For now, the list of American keepers in Europe, beyond the aforementioned Friedel and Cropper, is short. Luis Robles, who played in Germany for many years, returned to the U.S. to join the New York Red Bulls last season. German-raised David Yelldell is a backup at Bayer Leverkusen. More interesting is Steve Clark, a former college and PDL keeper who is starring in net for Hønefoss BK in Norway. Clark was good enough in 2012 to make the league's Best XI for the season, helping Hønefoss avoid relegation despite a poor offensive output.

The best part of the 27-year-old's story is that Clark sold himself to Hønefoss, cold-calling the club to earn a tryout after a trial at Bradford City in England ended with his failure to secure a work permit. Clark is not nearly as well-known as Howard and Guzan, and yet his tale is more illustrative of the strength of American goalkeeping than the two stars who suit up for the USMNT.

There's a real chance that the next generation of American keepers, namely Bill Hamid and Sean Johnson, will spread its wings abroad at some point in the near future. Both are extremely young, particularly for the norm at their position, but have the type of athleticism and shot-stopping ability that made American goalkeepers famous around the world. Klinsmann regularly includes the pair in camps and B-team call-ups, a likely move toward setting them up for a chance to secure work permits in Europe. Additional candidates for foreign service are rampant in MLS, with names like Dan Kennedy, Clint Irwin, Zac MacMath and Joe Bendik coming to mind.

Until they go, however, American goalkeeping abroad will have to "suffer" through what seems like a fallow period in U.S. terms but is still a significant level better than almost any other country in the world can boast.

Goalkeeping. An American natural resource exported across the sea.